Namibia set to take centre stage in Africa
Hosting the second WorldSkills Africa Competition is part of the government's plan to deliver its national agenda on TVET with help from a range of international and local partners.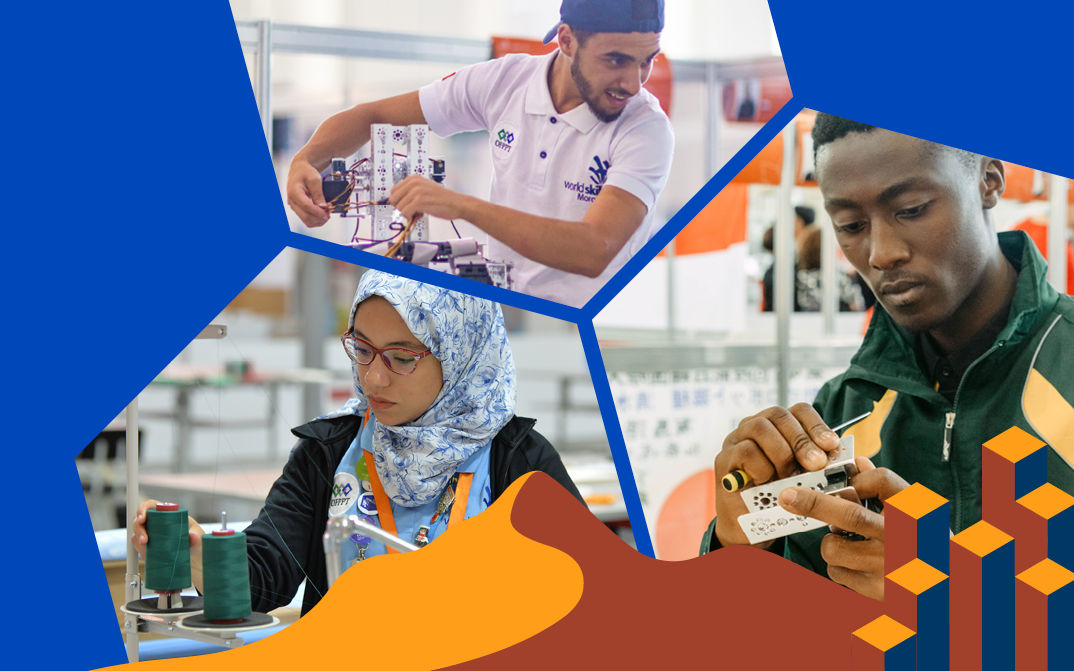 WorldSkills Africa Swakopmund 2022 kicks off on 28 March with ten countries plus Team Refugees from across the African continent competing in the Namibian coastal city of Swakopmund. A WorldSkills Member since 2011, Namibia was awarded the opportunity to host the event — the second regional competition in Africa — at the General Assembly 2019.
Namibia is one of Africa´s great success stories. Political stability and strong economic management have accelerated the progress of this sparsely populated country, helping to reduce poverty and raise it to an "upper-middle" income country by World Bank classifications.
Youth unemployment is, however, steadily rising, reaching 60% in 2018. To counter this issue, Namibia has made Technical and Vocational Education and Training (TVET) a strategic priority. The country is promoting youth participation in TVET, enhancing the capacity of local TVET practitioners, and helping transform the local economy.
"Our TVET system needs to always be fit-for-purpose ⎼ not only should it align with global developments, it should always keep track with the ever-evolving demands of the labour market," said Dr Itah Kandjii-Murangi, Minister of Higher Education, Technology and Innovation, in a recently televised announcement.
Hosting the WorldSkills Africa Competition is part of the government's plan to deliver its national agenda on TVET.
"WorldSkills Africa Swakopmund 2022 is an excellent channel through which we can strengthen our national TVET system in a way that it is able to produce competent graduates with the right mix of talent, creativity, skills and attitudes," said the Minister.
"Skills competitions are a highly attractive tool to generate awareness of the importance of skills and improve the social image of TVET. It motivates and inspires youth to strive for excellence," believes Sens Shoolongo, Manager WorldSkills Namibia, who is at the forefront of organizing the event.
"Staging WorldSkills Africa Swakopmund 2022 will aid our efforts to persuade parents, guardians and teachers, and young children that TVET careers are rewarding, gratifying, worthwhile, and meaningful. This will enable the country to have a number of youth, particularly those that have performed well academically, to start joining TVET, and to counter the disturbingly high levels of youth unemployment," said Mr Shoolongo.
The team at WorldSkills Namibia has built on its experience in national skills competition in 2017 and 2019 to host the larger regional competition. Following the competition, they hope to be "well positioned to add value to the building of the WorldSkills Africa movement."
International and industry support
Alongside support from the African Union and WorldSkills, WorldSkills Africa Swakopmund 2022 has benefitted from contributions from international organizations, as well as global and local industry partners.
The European Union and the German Federal Ministry of Economic Cooperation and Development, both long-standing partners of Namibia in the education and skills development sector, have contributed to the staging of the event.
At the local level, Bank Windhoek has invested in marketing and promotion activities. The Namibian Broadcasting Corporation (NBC) is supporting the development of programmes to support TVET careers advocacy, apprenticeships, training, marketing, and public relations.
WorldSkills International Global Partners Festo and Lincoln Electric have also reinforced their support for the WorldSkills Africa movement and skills development in the continent.
Festo South Africa will provide materials for Mechatronics. During the official signing ceremony, Mr Brett Wallace, Managing Director, Festo South Africa, expressed the corporation's honour to be an important part of the Competition.
"As a world-leading automation and education company, it is a fundamental believe of ours that it is these initiatives that really drive socio-economic sustainability. It's more than just a competition. By uniting education, industry and government, we close the loop between all primary stakeholders. This is the factor that drives productivity and employability," said Mr Wallace.
Lincoln Electric has been working with WorldSkills Africa to improve the availability, access, and quality of welding courses across the continent.
"Welding in is one of the most important skills for Africa's young generation. There is a massive skill gap. In countries like Angola or Nigeria you can't find welders for the mining industry, and welders are being brought from Asian countries. The main issue we are facing is a lack of resources to increase and upgrade the offer in welding schools," said Benoit Lamotte, Managing Director Middle East & Africa, Lincoln Electric.
For WorldSkills Africa Swakopmund 2022, Lincoln Electric will provide ten brand new welding machines, PPE equipment, as well as having a welding and an engineering technician from Johannesburg to give support on site.
Thanks to these contributions, WorldSkills Africa Swakopmund 2022 is shaping up to be a thriving platform for government, industry, institutions, and students to develop a shared vision of skills excellence in Africa.