Meet Justina Ashiyana, the new WorldSkills Champions Trust representative for Africa
The WorldSkills Abu Dhabi 2017 Champion and soon-to-be certified VET instructor in Joinery is a WorldSkills Champions Trust representative for Africa.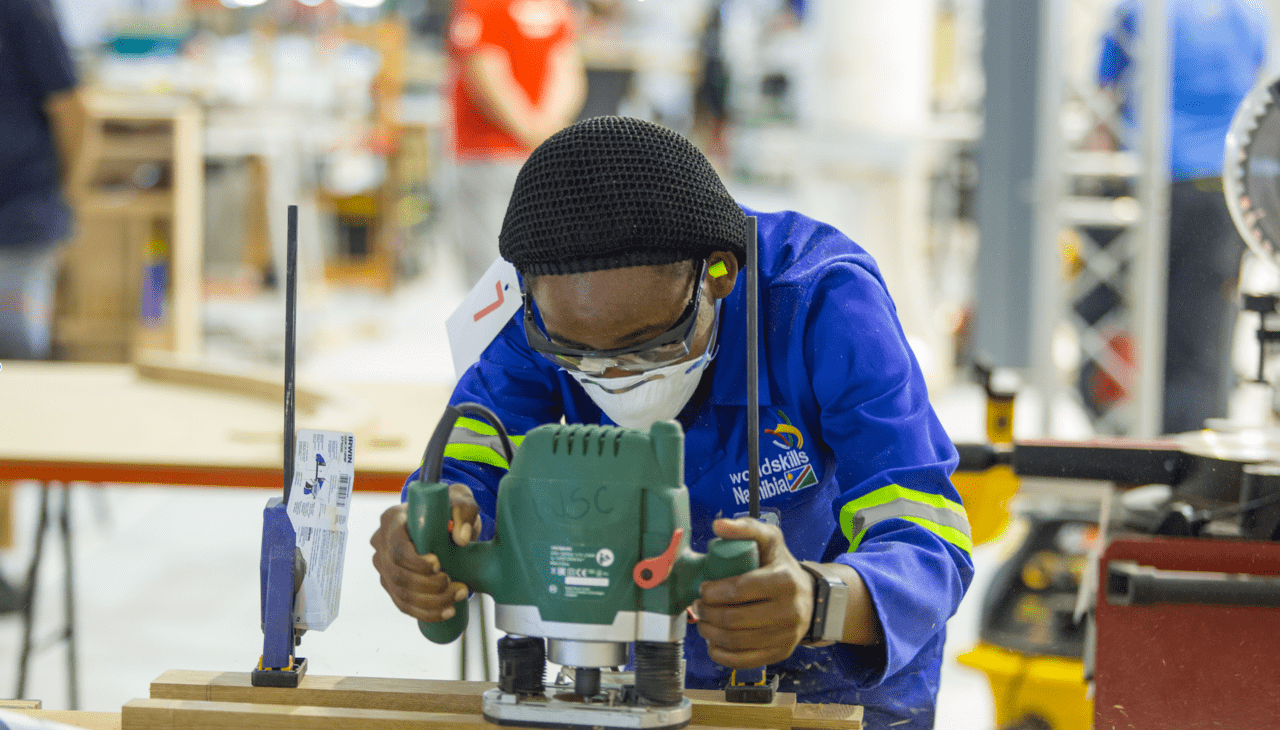 Having risen from humble beginnings in a small town in the north of Namibia, Justina Ashiyana's skills journey propelled her to become a role model for African youth. A Joinery Competitor for WorldSkills Abu Dhabi 2017, she has been recently appointed WorldSkills Champions Trust representative for Africa for the term 2023-24.
Inspired by her father who worked in the construction field, Justina always dreamt of becoming a tradesperson and working with her hands.
As soon as she finished grade 12 in 2012, she enrolled in vocational training. She says that her skill – Joinery – is a combination of logic, imagination, and intuition, that allows her to be "creative and innovative, solution-focused and action-oriented." Justina's determination and passion moved her forward in her career, despite often facing discrimination and criticism for choosing a male-dominated trade.
"People would tell me that I would not get clients due to my gender and height," she says. At school or at work, however, Justina explains how she was always encouraged by her peers.
Her WorldSkills journey started during her third year of vocational training, when she was selected for the national competition and was the only woman against 11 other Competitors.
Since then, Justina has advocated for equal access to skills development opportunities, becoming an ambassador for skills and representing Namibia in various regional, and international platforms.
Following her experience at the 44th WorldSkills Competition, she took part in the Pan African Youth Forum in Addis Ababa and was later employed as a temporary assistant joinery trainer at Valombola Vocational Training Centre. This led her to become a WorldSkills Namibia Expert in Joinery, and a Team Leader at the WorldSkills Africa Swakopmund Competition 2022.
She was also selected to be part of BeChangeMaker Africa 2022, the social entrepreneurship accelerator programme powered by WorldSkills, the HP Foundation, and the African Union. Their project 'Yours is Mine' promotes sustainable sanitary pads for marginalized schoolgirls.
Justina uses her voice to speak against gender discrimination. For instance, her story was featured in the WorldSkills International Women's Day #BreakTheBias campaign, as well as in support of the HeForShe movement for gender equality.
"I want to encourage other women to rise to the challenge and encourage them to follow their passion, irrespective of stereotypical perceptions and gender domination of certain trades," she said. "Opportunities are made available, but perception and lack of exposure limit female participation in some trades. I hope I can be an inspiration to fellow women and girls and that we can all achieve as much in any trade as men."
Currently, Justina is enrolled in a national diploma instructor course in VET at the Namibia University of Science and Technology.
Meet more of the WorldSkills Champions Trust