Global Impact Challenge goes live in Uganda
Capacity building "bootcamp" in Kamuli will empower trainers and students with new skills, knowledge, and confidence.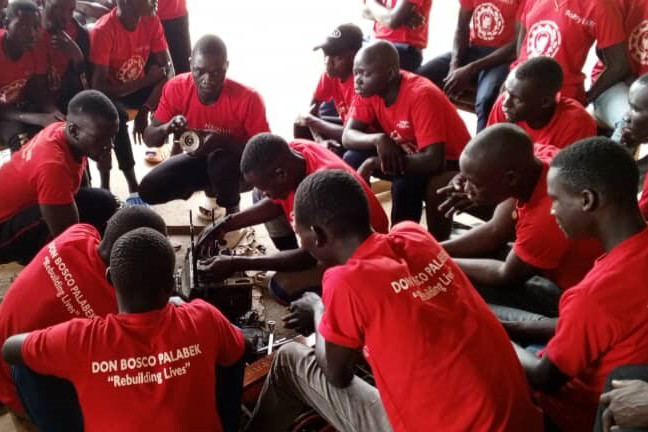 Next week sees an exciting phase of WorldSkills work in the Skills Development in Africa initiative. A group of WorldSkills Experts will travel to Kamuli, Uganda for a capacity building skills bootcamp which is part of the Global Impact Challenge. As one of the first recipients of the Makers Grant from WorldSkills Global Premium Partner, Stanley Black & Decker, this initiative aims to bridge the skills gap by providing mentorship to trainers and inspiring educators, government, and employers to work closer together to raise the standards of Vocational Education and Training in Uganda.
The programme has been running since May 2022 in partnership with Don Bosco Tech Africa and with support from the African Union and the African Union Development Agency. It is an opportunity for learners to put their knowledge into practice and for the WorldSkills team to work even closer with the trainers on the ground. Starting from 15 May, 30 Ugandan trainers and 18 Ugandan students from construction and manufacturing skills will participate in skill-specific workshops and demonstrations, work on their own test projects and exercises to test and expand their skills knowledge over three days of the bootcamp. A selected group of key stakeholders from industry, TVET centres, and government in Uganda will join thematic workshops that focus on WorldSkills Occupational Standards and their implications for improving TVET development.
Knowing that capacity building can be one of the most effective ways to improve a skills education system within a country, the goal of the programme is to upskill trainers in Uganda so they can recognize the mismatch between the industry demand and the current skills training. Through the online mentorship with WorldSkills Experts, the trainers from Don Bosco TVET centres and WorldSkills Uganda have been able to exchange knowledge from their national context while receiving guidance on better training and assessment techniques through practical examples. The WorldSkills Occupational Standards have been used as a reference for skills excellence and mapping tool to inform the trainers where the gaps are. At the bootcamp, students from Don Bosco TVET centres will be able to benefit from more hands-on skills training and enhance their technical knowledge under the guidance of their trainers and WorldSkills Experts.
Don Bosco Tech Africa has 113 TVET Centres in 34 African countries which are designed to build skills and confidence among marginalized young people. John Njuguna, Deputy Director of the organization, says: "We are incredibly excited about this programme. If the feedback is good and the bootcamp is a success, then there is a huge opportunity for us to engage other partners to support similar initiatives for our other centres and quickly improve the skills of our technical trainers and enhance their approach to teaching. This would also enable the mobility of our trainers to exchange their skills and expertise with trainers from other centres. We want to create a wonderful cascade effect that lifts the standards, and the ambitions, of skilled young people across Africa."
Grace Lung, WorldSkills Senior Manager of Partnership Programmes, emphasizes how important capacity programmes like this are. She says: "Skills development in Africa is a strategic priority for WorldSkills and a key focus for WorldSkills Africa that is being developed with the African Union and the African Union Development Agency. By improving skills training, we can empower and inspire African youth to consider a vocational or technical pathway. And by becoming more responsive to the needs of industries and businesses, we can help the African countries accelerate their economic development by closing the skills gap and having a workforce that is future-proofed and ready to meet the challenges of the next decade."
But there is still a need for greater investment and co-operation, as Grace explains.
"Initiatives like Global Impact Challenge will give us robust evidence about the power of capacity building, and we intend to take our learnings from this programme to encourage other VET institutions across Uganda, and Africa, to follow suit. But ultimately, success relies on educators, industry, and government stakeholders working closely together, valuing skills development, and be ready to invest in capacity building."
Details of the impact of the Global Impact Challenge skills bootcamp in Uganda will be shared in June 2023. For more information, please contact Grace Lung, grace.lung@worldskills.org.