#ChooseToChallenge: Courtney, Australia, Fashion Technology
We #ChooseToChallenge gender inequality. As part of International Women's Day, WorldSkills is celebrating women's achievements in forging a gender-equal world. Meet Courtney New, a freelance costume maker from Australia.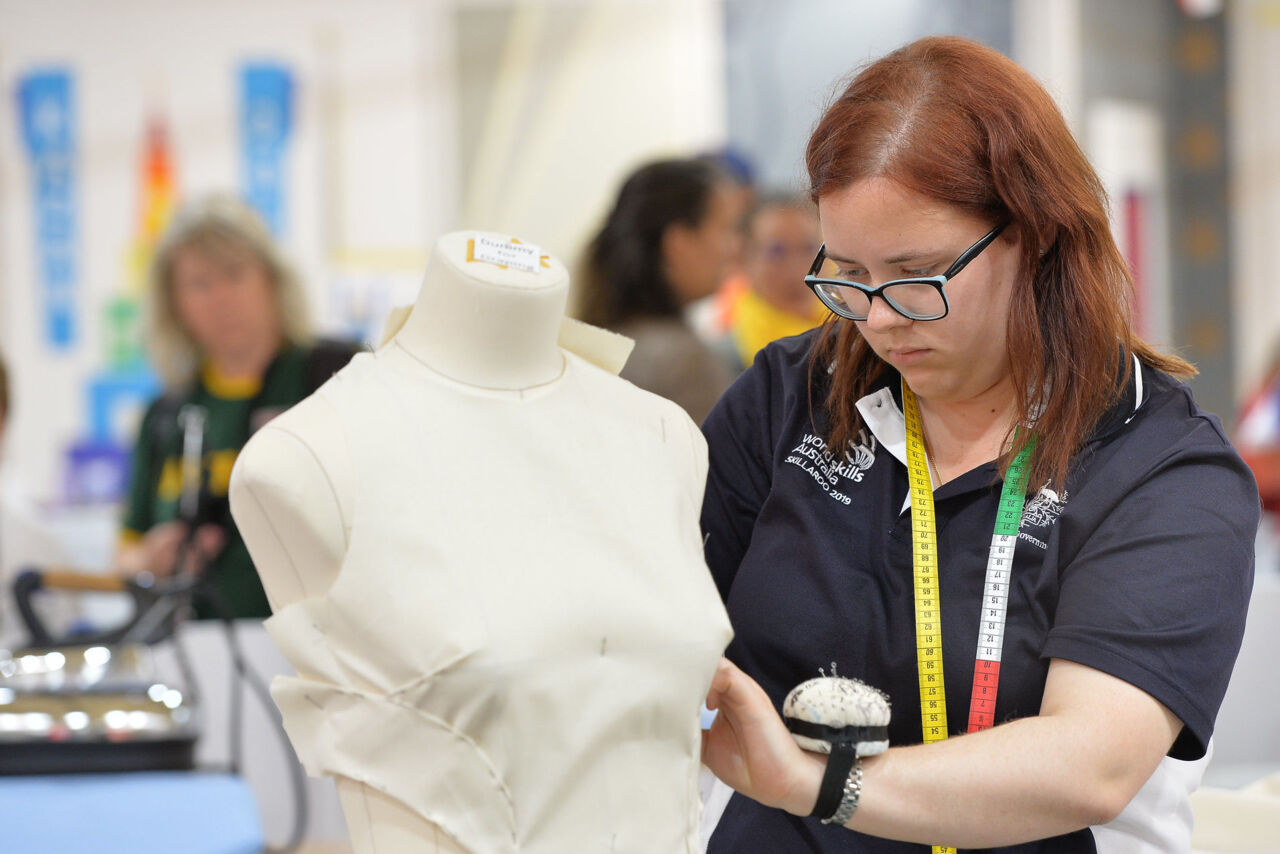 Freelance costume maker, WorldSkills Champion Courtney New, works in the film industry for movies shooting in Sydney, Australia. Assumptions around the personality of people working in fashion or sewing any kind of clothes for a living are frequent in society, stereotypes that Courtney, 23, is determined to challenge.
"Being a female-dominant industry, it is very often assumed that these women are usually very feminine and delicate where that is not always the case. There are many women, including myself, whose skills take them from sewing delicate silks one minute to using power tools on metal the next," she says.
This bias also affects men in fashion industry, who are thought to be "feminine". However, Courtney asserts that "fashion is simply just a very creative, hands-on, expressive trade and should not be reduced to stereotypes associated with gender as it limits the artistic talent of individuals involved."
Language often carries gender assumptions. For instance, the word 'seamstress' as a job title in fashion industry is very limiting and inherently tells that the employee is a woman.
"I have challenged this many times and encouraged a change in the job title to lean away from old-fashioned, gendered labels and be more inclusive using titles such as 'stitcher' or 'sewer' instead. This opens up the fashion industry to allow for equal opportunity for men and women when applying for this role," says Courtney.
She believes that more initiatives are needed within educational institutions to show students that careers are not gendered.
"The government," she says, "could incorporate programs in schools that allow students to experience working in environments that may have a dominant gender and encourage them to break those stereotypes."
Courtney's love for textiles and making things spurred from technology subject in high school. There she also chose to study textiles for the chance to learn more about garment construction, pattern making and sewing.
This led her to study a Diploma of Fashion Design and Merchandising at Ultimo TAFE in Sydney, and she then specialized in costume making with a Diploma for Live Production in Costume Design. Courtney competed in WorldSkills Kazan 2019 in Fashion Technology.
In the future, she hopes to specialise in one or two areas of costume making so that she can gain a wide variety of skills for the future that could give her greater options and job opportunities as a freelancer.