EuroSkills Gdańsk 2023 concludes
The EuroSkills Competition came to an end in Poland with a fun and moving Closing Ceremony that recognized all Competitors and their contributions to a better world.
After three days of hard work, EuroSkills Gdańsk 2023 concluded with a remarkable show at the Polsat Plus Arena Gdańsk that celebrated Champions and their commitment to achieving world-class standards of excellence in their skill.
On Saturday, 9 September, 576 Competitors, 572 Experts, Delegates from all 32 WorldSkills Europe Member countries, dignitaries, and supporters came together for the Closing Ceremony, where the EuroSkills Competition 2023 Official Results were revealed.
Switzerland topped the medal points count, with 12 gold medals and 3 silver medals. The Jos de Goey Best in Europe Award 2023 – the most coveted accolade at EuroSkills – was awarded to Tamas Bandur and Zsolt Koncsik of Hungary, who won gold medals in ICT Specialists (team skill).
Named after the founder of WorldSkills Europe and the first President of the organization, the Best in Europe Award is presented to the Competitor (or team of Competitors) who achieves the highest overall score out of all of the hundreds of Competitors across all 42 skill competitions at EuroSkills.
After the Award presentations, WorldSkills Europe Chair of the Board, Teija Ripattila, addressed Competitors to remind them that each one of them is now known as a EuroSkills Champion. She concluded, "Be proud and know that United By Skills you are all changing the world for the better."
The EuroSkills Gdańsk 2023 Closing Ceremony ended with the passing of the WorldSkills Europe flag to the next EuroSkills host nation, Denmark, presenting EuroSkills Herning 2025.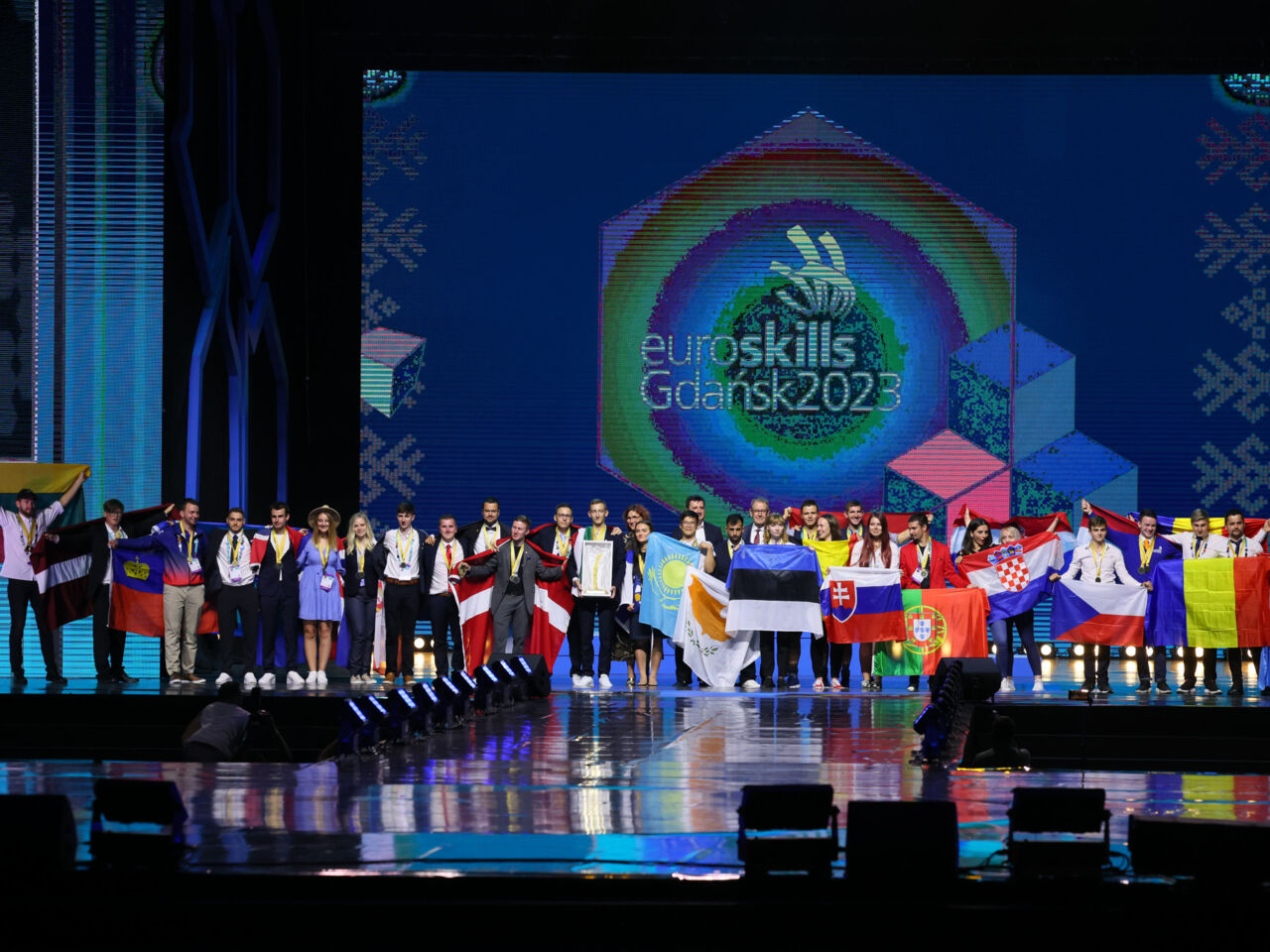 WorldSkills Champions Trust at EuroSkills Gdańsk 2023
WorldSkills Champions Trust representatives for Europe Dan McCabe and João Teixeira joined EuroSkills Gdańsk 2023 to support the young Competitors. Both former EuroSkills and WorldSkills Competitors, they had the opportunity to relive their experiences and the unforgettable memories they made.
During an impassioned speech at the Opening Ceremony, Dan told the audience that he had had the pleasure of being in their shoes, an experience that he said jump-started his career as a game developer, since he was headhunted by various companies after winning a gold medal at EuroSkills Gothenburg 2016.
"I then went to WorldSkills Abu Dhabi 2017. And it turns out I was not the best in the world. It was a very humbling experience and life changing in a very different way. It took me until long after I finished competing to really see what the most valuable part of the event was. It was the experience," said Dan. "If you only focus on winning, I'm afraid you may miss the point of this whole event. We are promoting excellence, your excellence, showing that skills keep our world moving and you, you are the people with those skills."
During the official Press Conference on 6 September, João spoke about the impact of participating at EuroSkills Graz 2021 and WorldSkills Competition 2022 Special Edition. Not only did it help his technical skills grow, he said, but it also made him more disciplined and committed to excellence.
As he is currently furthering his studies to become a Mechanical Engineer, João is now an instructor and a trainer for future WorldSkills Competitors, something that he says, "is a very fulfilling mission at this point in my life."
Over the five days of the event, Dan and João took part in multiple media and promotional events to help raise awareness of the transforming power of skills development. This included bringing the voice of youth into some of the panels and discussions under the 6th International Congress on Education and Training on 7 September.