WorldSkills Leaders Forum 2012
WorldSkills International - Sharing Success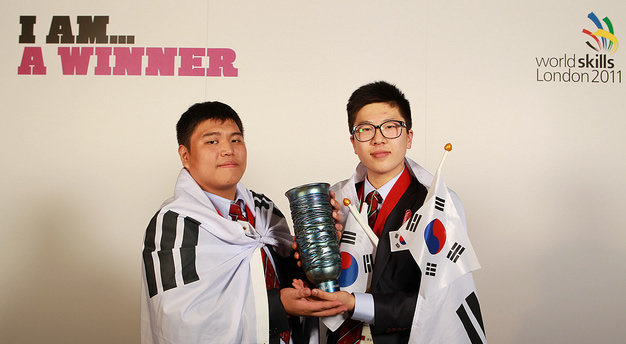 Targeted specifically at our Official Delegates, Technical Delegates and Korean hosts, the theme and content of the WorldSkills Leaders Forum 2012 was based around sharing success and learning from the best.
What is the definition of success? Is it a positive Competition experience? Is it leaving a lasting legacy for a WorldSkills Competition host? Is success defined for a young person as having competed in a WorldSkills Competition or is it becoming active in an alumni association and passing on knowledge to future Competitors? What 'best practices' must be in place to help make industry, governments and training organisations successful? Success can be broadly defined and can mean different things to different people and organisations. As part of the Action Plan 2012-2015, WorldSkills International will create opportunities for Members and stakeholders to share their successes that will enable all who are part of the WorldSkills movement to build capacity and become more successful as a result.
The WorldSkills Leaders Forum 2012 welcomed a number of keynote speakers who shared what success means to their organisations, past, present and future. This was particularly pertinent as the General Assembly will be ratifying the Action Plan 2012-2015 and will be defining what success looks like for Members of WorldSkills International, stakeholders, and the wider community involved in Vocational Education and Training.
Date and venue
Wednesday, 16 May 2012
Halla Hall, 5th Floor, Hotel Shilla, Jeju, Korea
8.45 a.m.–12.15 p.m. followed by WSLF Luncheon
Participants: All GA2012 participants + Korean guests
Language: English & Korean (simultaneous interpretation provided).
Themes
Theme 1
Skills for sustainable growth – the role of skills competitions
Mr Geoff Russell
CEO of Skills Funding Agency, England
The Skills Funding Agency is a partner organisation of the Department for Business, Innovation and Skills that funds and regulates adult further education and skills training in England. They work to ensure that people and businesses can access the skills training they need to succeed in playing their part in society and in growing England's economy. This is done in the context of policy set by the Department for Business, Innovation and Skills and informed by the needs of businesses, communities and sector and industry bodies.
The Skills Funding Agency invests £4 billion per year of public spending in colleges and training organisations, to fund training for adults in England. The skills training it funds enable people to do their jobs better, get new jobs, or progress in their careers.
The Skills Funding Agency champions high standards of training and development through the running of vocational skills competitions and awards. Skills competitions support the government's ambition of raising aspirations and attainment in workplace learning, and awards, such as the National Training Awards, identify best practice in workplace learning. As such, the Skills Funding Agency was the primary funding provider for WorldSkills London 2011.
WorldSkills London 2011 was an outstanding event and considered very successful both from the international community and from within the UK. This session will look at why it was a success and consider how hosting the world's largest vocational skills competition can support a country's ambitions with respect to skills development and economic growth. Through mainstreaming and integration, skills competitions can help raise the profile and awareness and recognition of vocational skills and careers.
Topics covered:
Ensuring skills competitions bring wider impact
Leveraging in benefits from the event
Legacy strategies and realisation
Measures of success
Theme 2
Keeping Competitors engaged beyond the Competition. The creation, development and delivery of a successful Alumni Programme.

Mrs Jaine Bolton
Apprenticeship Director National Apprenticeship Service
WorldSkills Official Delegate UK

Mr Oh Wang-geun
Chair of WorldSkills Alumni of Korea
"The WorldSkills Competition – Just the Beginning!" This is the clear message we get from our Competitors. The WorldSkills Competition experience is the beginning of an amazing journey – not the end!
How do we keep our former Competitors and Experts engaged with the WorldSkills movement? This session provided ideas, perspectives and lessons learned from two Members who have successfully implemented Alumni Programs.
WorldSkills Alumni of Korea has more than 400 members now. Since joining WorldSkills in 1966, there have been 845 Korean Competitors at the WorldSkills Competition.
WorldSkills UK Alumni:
Before the launch of the WorldSkills UK Alumni in 2007, past Competitors had no means of staying engaged and once the hype and excitement of returning from WorldSkills faded so did their engagement. Once the Alumni was launched past Competitors had a way of staying engaged, but due to limited resources the Alumni never really got off the ground.
With new investment from a sponsor in 2009 a strategy to re-energise the network was developed and implemented by a WorldSkills, UK Alumni Co-ordinator. The Alumni network now has 313 actively engaged members and a new development plan is currently being implemented. The development plan will empower and enable the Alumni membership with the creation of an Advisory Board that will manage the networks mandate. The programme and offer to Alumni is also being developed to create more clarity and opportunities for the membership.
The National Apprenticeship Service delivers Apprenticeships, Skills Competitions and Awards which create opportunity, support development and showcase excellence in the UK. There is a long history of Apprenticeships in England with major government support and investment. We have come a long way but must do more in order to become 'world class'.
In December 2010 the work of WorldSkills UK became part of the remit of the National Apprenticeship Service. WorldSkills UK Competitions reward real talent and drive up levels of expertise in further education, skills and Apprenticeships supporting the mission of the National Apprenticeship Service. WorldSkills UK includes four main elements; schools competitions, regional activities and national finals, participation in international competitions and the WorldSkills UK Alumni.
WorldSkills London 2011 set out to bring lasting change by creating a permanent legacy for skills. WorldSkills UK will take on this challenge by running an annual celebration and showcase of Further Education, Skills and Apprenticeships called The Skills Show.
Theme 3
Learn how to be at the top of the league tables. Hear from the two top performing countries in WorldSkills Competitions over the last decade

Mrs Christine Davatz
Vice-director of the Swiss Association of SME
WorldSkills Official Delegate Switzerland

Mr Yi Sung-ki
Vice-president of Competency Development, HRD Korea
Sharing Success from the two best performing countries in WorldSkills Competitions over the last decade What makes Switzerland and Korea so successful?
The objective of this session was for Switzerland and Korea to share their 'secrets of success' with all WorldSkills Members.
The speakers covered a variety of the following topics/questions:
An understanding of the VET system (including Standards, Qualifications, Funding, Pathways, Apprenticeships, Frameworks etc)
VET from a Government prospective, College Tutors perspective, Industry prospective and Student prospective.
How are skills competitions organised (local, regional, national)
How are Competitors selected for the international Competition.
How are skills competitions linked to the VET system
How are 'lessons learned' from skills competitions fed back into the mainstream VET system.
How are Experts selected.
How are Experts developed to support and deliver excellence from their Competitors.
How are skills competitions funded.
How are the benefits of skills competitions shown.
How and why are the Competitors motivated to perform so well. Are incentives offered?
How do skills competitions link into the country's economic aims and ambitions?
When are Competitors selected or identified as potential international Competitors?
Do Competitors train with their employer, dedicate all their time to training, attend special training sessions from specialists?
Are competitors remunerated while training?
What does the training team of industry/skill experts look like?
We also heard from Swiss and Korean Competitors who are attending the Youth Forum with their perspective on the process and benefits of skills competitions as part of their vocational training and career paths.
Programme
Wednesday, 16 May 2012
8.45 a.m.–12.30 p.m., Hotel Shilla, Jeju, Korea
Performance
Opening remarks, welcome, and introductions
Welcome Address
Theme 1
Skills for sustainable growth - the role of skills competitions
Theme 2
Keeping Competitors engaged beyond the Competition. The creation, development and delivery of a successful Alumni Programme.
Theme 3
The world's top skills performers. Sharing success from Switzerland and Korea, the two best performing countries in WorldSkills Competitions over the last decade.
Final comments and thank you to speakers
Mr Simon Bartley
President of WorldSkills International