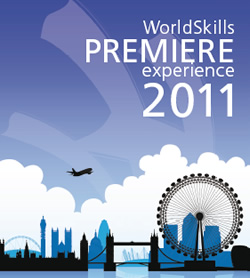 By Michelle Turpin, WSPE Coordinator, WSI
Following feedback from the WorldSkills Premiere Experiences in Shizuoka and Calgary, WSI is happy to report that the WorldSkills Premiere Experience(WSPE) 2011 will have a different delivery model. The WSPE will be accessible to a wide range of participants and will meet the needs of all leaders in skills organisations around the world. It will be sold as an 'add-on' to Observer packages offered by WorldSkills London 2011 and will allow participants to customise their experience at the event. It is the expectation that this 'a la carte' version of the WSPE will interest more people from more countries/regions and the participation numbers will be higher than those from the previous events.
After talking to many Delegates at the General Assembly 2010 in Kingston, Jamaica, it is clear that this new model for the WSPE is exactly what Members are looking for to provide to their VIPs. WorldSkills International's goal is to get the right leaders in the room together to learn from each other and world class experts that we help facilitate. The message is clear: the more people from business, industry and government who are supporting vocational training, the more options and support young people will have that will in turn make them more likely to choose skilled careers.
To let us know the role you would like to play in the WorldSkills Premiere Experience 2011, to offer comments and to register participants, please contact Michelle Turpin at michelle.turpin@worldskills.org.