WorldSkills São Paulo 2015 - what hosting the event means for Brazil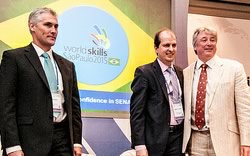 Following the unanimous decision by Members of WorldSkills International to vote for the 43rd WorldSkills Competition to be hosted in Brazil, Roberto Spada, invovled in WSI since 1989 and Board Member of WorldSkills International gives his reflections about what he thinks bringing the event will do for Brazil.
'I am delighted that Brazil has won the right to host the world's most important event for vocational skills. As is the case in many other parts of the world, academic careers are pushed hard in Brazil and we need to intensify the focus on highlighting the importance and quality of vocational training and careers to parents, young people, teachers and leaders. The WorldSkills Competition gives an invaluable opportunity for a country to positively improve the vocational training process. Following WorldSkills London 2011 we have seen the UK embed skills competitions into their Apprenticeship network and we are hoping for a similar impact when we host the event in 2015.'
Partnership working is essential and SENAI must work with other training and industry partners to ensure that we not only stage a first class Competition but that a long term attitudinal impact is achieved for Brazil. The timing is right for Brazil to host a WorldSkills event. Following the 2014 FIFA Worldcup, Brazil will have had a lot of investment in sport development and WorldSkills Sao Paulo 2015 will demonstrate to Latin America that development in vocational education processes can provide strong foundations for flourishing economies and individual fulfillment.
The Competition will be situated in the heart of industry. Over 65% of major businesses have industrial headquarters in São Paulo and the WorldSkills Competition will provide a fantastic opportunity to sensitize all social agents to support the development of vocational education.