WorldSkills Russia's gives National Competition and Conference an international flavour
Their Conference programme, which runs alongside the WorldSkills Russia National Competition, will feature an interactive talkshow, where leading international experts will bring their ideas and expertise to the challenges of skills in a time of pandemic.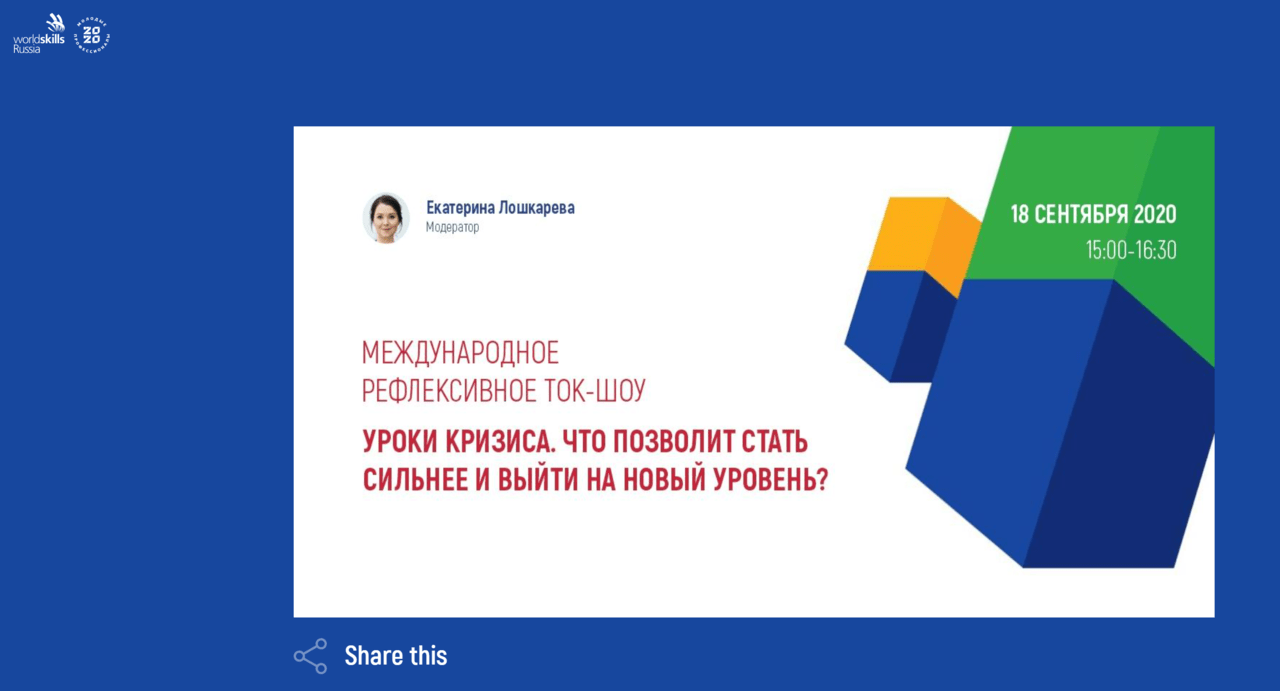 Moderated by Ekateriana Loshkareva, WorldSkills Board member and Russia's Official Delegate, speakers include Chris Humphries, WorldSkills Acting President and Board Chair, Shaun Thorson, CEO Skills Canada, Karina Salikova, WorldSkills Russia Deputy Director General, and Borhene Chakroun, Director of Policies and Lifelong Learning Systems Division at UNESCO.
Taking place on Friday, September 18, at 12.00 GMT (15.00 Moscow), this will be a virtual event, broadcast in English, online and through WorldSkills Russia's Facebook page.
WorldSkills Members are invited to show support by sharing the live feed through their social media accounts.
Among the issues for discussion in the 90-minute session will be ideas for new formats for training and competitions when social distancing is the new normal.
Participants will look at the challenges - and some advantages - of working remotely, and share best practices for training and competitions while keeping to WorldSkills Standards.
Other issues included in Conference session is the importance of a fast and stable internet connection, maintaining cyber security in virtual events, and the impact of working remotely on young Competitors.
To join the live broadcast visit https://conference.worldskills.ru/nf/mezhdunarodnoe-refleksivnoe-tok-shou Friday, September 18, at 12.00 GMT (15.00 Moscow) or visit the WorldSkills Russia Facebook page. English audio track will be available in the player framework once the talk show is on.