WorldSkills Premiere Experience - the 'Why, Who Should and How to' attend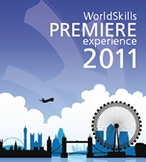 By Michelle Turpin, WorldSkills International
Why attend the upcoming WSPE? You will meet other like minded leaders who are making a difference in their organisations, countries/regions and you will have a chance to share your successes and your challenges with others.
Who should attend? You should attend if you are a leader in business, education, government or unions and you want to meet colleagues from around the world to network with and hear what other people are doing in their own countries/regions to promote skills and training.
How do I register for the WSPE? Please visit www.worldskillspremiere.com where you can view the entire conference and events programme. There are 3 days of conferences that you can purchase for GBP400. You can customise your own WSPE programme or simply plan to attend VIP receptions and seating at the Opening and Closing Ceremonies. Choose one or more Study Visits where you can visit further education training facilities or UK businesses. You can book WSPE tickets for yourself or for a group. Find 'Register Now' on the website, then choose the components you wish to attend.
For any questions, or if you require any assistance, please email wspe@worldskills.org