WorldSkills International's New President Eager to Grow Organisation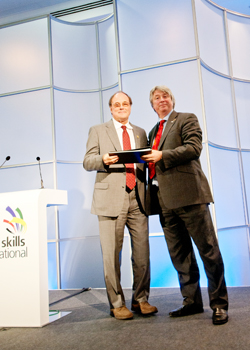 By Melissa Halford, WorldSkills International
With WorldSkills London 2011 in the history books, WorldSkills International is looking ahead with a new President at the helm.
WorldSkills International (WSI) is celebrating successes, making changes for improvement and planning for future events. The baton has been officially passed to Germany, the host of WorldSkills Leipzig 2013, and former UK Official Delegate to WorldSkills International, Simon Bartley, became the organisation's newest President. Simon was elected President of WorldSkills International at its General Assembly in October 2010 but commenced his four year term on October 10th – the day after WorldSkills London 2011 officially came to a close. Simon was involved in the planning of WorldSkills London and took particular pride in assuming the role of President at such a special moment: "To have been elected to the office of President of WorldSkills International at the end of a truly inspirational and successful WorldSkills London 2011 is an honour and a challenge."
Simon's involvement in WSI is quite longstanding; his father also sat on the UK Skills Board from 1987 to 1999 and was Official Delegate in 1993. Simon is eager to continue WSI's mission to promote a worldwide awareness of the essential contribution that skills and high standards of competence make to the achievement of economic success and personal fulfilment. "I will strive to make WorldSkills International the authoritative voice for skills around the world and to ensure that the Competition rises to ever greater heights," Bartley said on his plans for leading the organisation into the future.
Simon is replacing past President, Tjerk Dusseldorp who served as WorldSkills International President from 1999. Tjerk offers good luck to the incoming President as he steps down with conflicting emotions: "After 30 years of being part of the WorldSkills movement, it is with excitement and sadness that I step down as President. I have the upmost confidence that the new Board and new President, Simon Bartley, will take the vision of WorldSkills International forward. WorldSkills International is primed to reach new heights and is on track to reach its goal of 70 Members by 2020. I wish Simon all the best in his new role and look forward to seeing WorldSkills International's continued growth and expansion into every corner of the world."
The worldwide enthusiasm created through the great success of WorldSkills London 2011 will certainly invigorate the WSI Board. With its new leadership, WorldSkills International will certainly continue its work promoting the essential contributions of careers in the industrial trades, information technologies and services sectors of the global economy with renewed energy.