WorldSkills Champions Exchange – New Look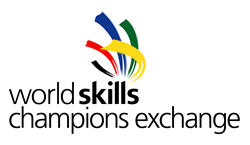 Many of you have already been introduced to the WorldSkills Champions Exchange program (WSCE). Now we've given the website a complete makeover to match the new look and feel of worldskills.org. Flyers, postcards and other material will be made available soon.
The WSCE is a unique opportunity, that allows past Champions of WorldSkills to travel abroad with their skill for 3-12 months. New professional and personal experiences will give them added confidence as they continue their WorldSkills journey.
WorldSkills needs your help in finding quality placements for our Champions. A host company can help equip the Champion with new techniques, new skills, knowledge about different cultures and quite possibly another language. In return the company is rewarded with a highly qualified young skilled professional for the duration of the exchange, insight on new ways of working through the international experience of a Champion and access to meet and exchange ideas with like-minded employers in the global skills market.
It's an attractive proposition. We offer the very best skilled young people in the world, and in turn the host companies provide them with meaningful and challenging work in an environment where people are passionate about skills.
Remember that a WorldSkills Champions is not only the best they can be - they represent the best from their home country/region!
For more information please visit www.worldskillschampions.com or contact christine.scoot@worldskills.org.