Skills/Compétences Canada hosts the 14th Canadian Skills Competition at Stampede Park in Calgary

The Canadian Skills Competition is the only national, Olympic-style, multi-trade and technology competition for young students and apprentices in the country. Every year, the event brings together approximately 500 young people from all regions of Canada, along with their parents and advisors, to compete in over 40 trade and technology areas. The competition provides an opportunity for young Canadians studying a skilled trade or technology to be tested against exacting standards and against their peers from across the nation. Students vie to win the honour of being crowned the best in their chosen discipline.
This 14th Canadian Skills Competition was a very special event, as it was a culmination of an incredible journey for many young Canadians vying for a place on Team Canada so that they can represent their country at the WorldSkills Calgary 2009 event.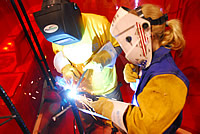 The competition was the final major event of the year which completed a series of Pan Canadian activities designed to expose Canadian youth to trade and technology career options. It brought together representatives from education, government, labour, business and industry who all believe that a career in trades and technology is a great first choice for our youth. It also gathered many visitors from around the world representing WorldSkills International, the Executive Board and other dignitaries. They were in Calgary as the national competition was the lead-up to the WorldSkills Calgary 2009 Competition which will be held at the very same venue, Stampede Park, Calgary Alberta September 1-6, 2009. Canada will welcome 1,000 competitors from 50 WorldSkills Member countries/regions (representing 23 languages) to showcase their skills and demonstrate their abilities.
As a Member of WorldSkills International, Skills/Compétences Canada www.skillscanada.com looks forward to welcoming over 150,000 spectators to WorldSkills Calgary 2009 and introducing the world to Team Canada.
"For more than a decade we have carried the trade and technology message to Canadian youth and we are very proud of the achievements of our competitors, trainers and experts. With this history of success we look forward to the future with great anticipation and optimism." says Terry Cooke, President of Skills/Compétences Canada.