Skills for All: Aircraft Maintenance Technician Caroline Söderqvist, Sweden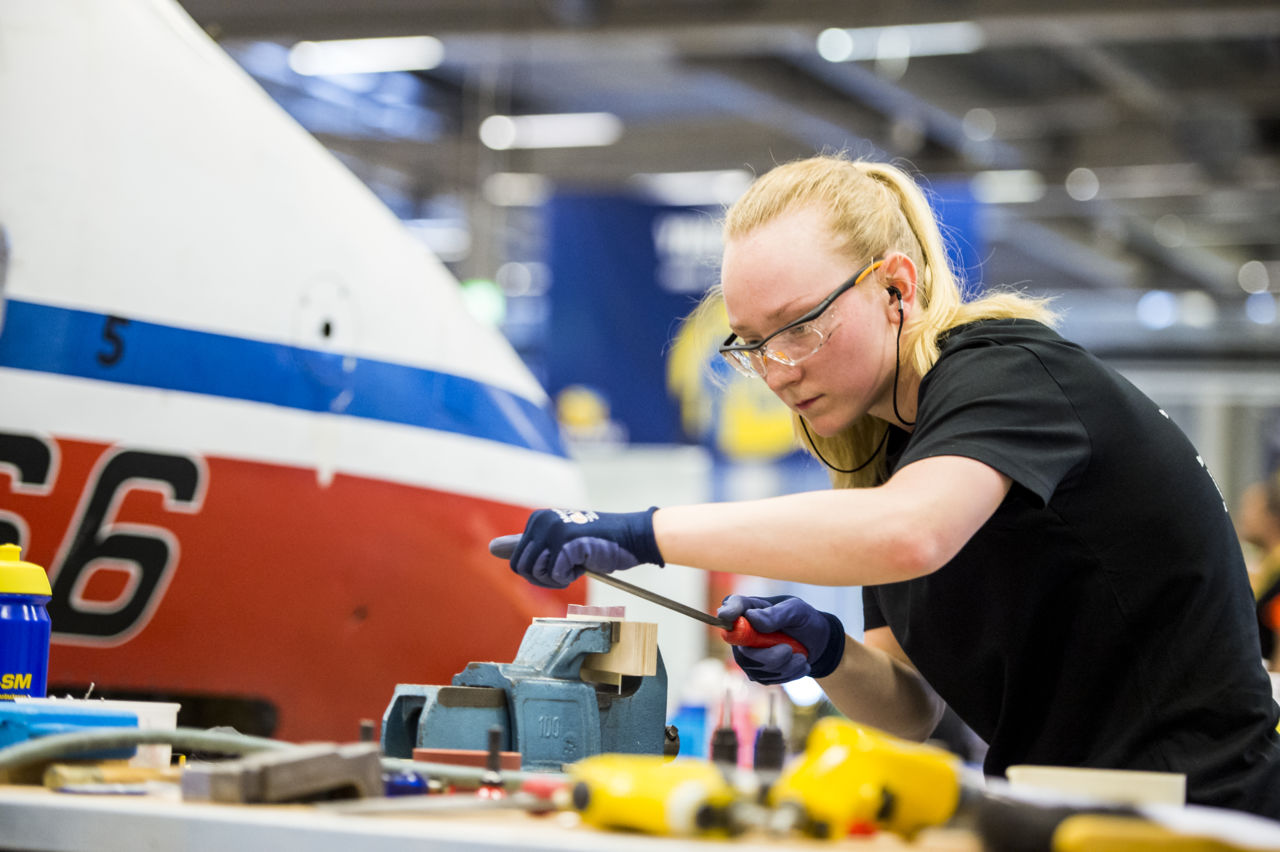 Many people's jobs revolve around rotas – for Caroline Söderqvist, it's more about rotors.
The 23-year-old helicopter technician from Mjölby, Sweden, will compete in Aircraft Maintenance at WorldSkills Abu Dhabi 2017, having entered the same category in her home nation's 2016 competition. She hopes her career choice can help to address the under-representation of women in aviation.
"I've tried to figure out why we don't see more women applying, and my conclusion is that they don't know it exists or they're too intimidated to even try to pursue it," she said. "Promoting women already in the business is the best way to make people realize that, while it might seem a typical 'guy job', it doesn't have to be."
Aviation caught Caroline's eye because it "seemed interesting and unique", and it hasn't disappointed. "Once I learned what it was all about, I fell in love with it," she said. "It's such a fun skill, and it never gets boring as a new experience or learning opportunity is always just around the corner. And I like the responsibility – without us, the technicians and mechanics, the aircraft wouldn't fly."
Women's salaries, however, are something Caroline doesn't see taking flight. "Mostly, there is a gender difference, and that's wrong," she says. "If a man and woman do the same work, they should have the same salary - simple as that."
Caroline believes that WorldSkills Abu Dhabi 2017 can prove to young people that the sky is the limit, in their career and their life. "It's an amazing opportunity to push yourself, try new things, and grow as a person," she said. "Competing in the Swedish National Competition gave me a new perspective, showing me there are endless opportunities just waiting to be pursued. What happens after WorldSkills, I don't know yet, but I definitely want to continue my career in this field."
WorldSkills is recognizing skilled women around the globe in celebration of International Women's Day, 8 March. Join us in supporting HeForShe – a solidarity movement for gender equality, led by the United Nations.
Take the HeForShe pledge, by signing at HeForShe.org, and acknowledge that you are "one of billions… who believe that everyone is born free and equal", and that you "will take action against gender bias, discrimination and violence to bring the benefits of equality to us all."