The road to WorldSkills São Paulo 2015 has begun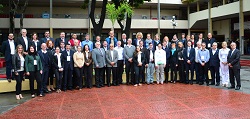 The 43rd WorldSkills Competition is set to take place in São Paulo, Brazil from 11-16 August 2015. This will be a momentous occasion, as it is the first time that the event has been held in Latin America.
From 4-14 November 2013, WSI and the 2015 Competition Organizer had their first set of on-site meetings and venue tours to begin the planning of the comprehensive event.
Members from WorldSkills Leipzig 2013 were also in Brazil. They put in a lot of hard work and held a fantastic event, but it was time for the official hand over and transfer of knowledge to WorldSkills São Paulo 2015. The occasion was bittersweet as their time as host came to an end, as it always is when the new host takes on the responsibilities of the next Competition.
Every time the WorldSkills Competition is held, it seems to get bigger and better. This is because it is tradition for the past host to pass along all the knowledge they gained from their hosting experience on to the next host. By identifying both best practices and obstacles, the hosts are able to build upon something great. This way, the Competition itself remains consistent, while the extra activities and Ceremonies can be tailored to showcase local culture and impress all audiences. As future hosts of the 2014 World Cup and the 2016 Olympics, Brazil is no stranger to planning spectacular events.
WorldSkills São Paulo 2015 will be the biggest Vocational Education and Training and skills promotion event in the world, featuring more than 60 countries/regions, over 200,000 visitors, more than 1,000 Competitors and approximately 1,000 Experts, and involve dozens of educational, government and industry leaders. The event will be held at the Anhembi Park – one of the largest conference centres in Latin America.
The Competition Organizers and supporters in Brazil are very excited to welcome the rest of the world. They are passionate about the importance of Vocational Education and Training and skills promotion as an essential and effective strategy for the social and economic transformation of communities and countries. They now have the stage and platform to spread that message to the Americas and the rest of the world.