Register now for OECD Local Skills Week: Future-Proofing Local Skills Systems
Join the OECD Local Skills Week virtual conference from 15 to 17 February 2022.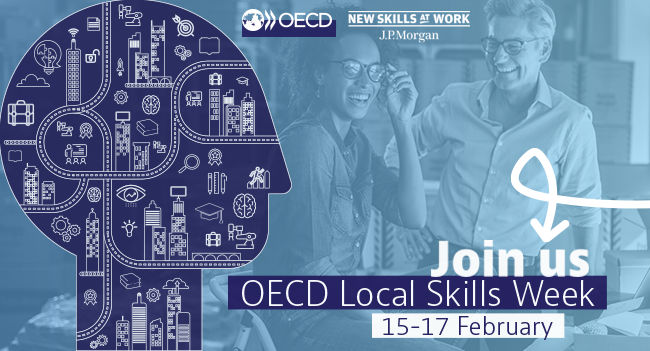 Labour markets are changing due to globalization, demographic changes, digitalization, and the green transition. The COVID-19 pandemic has only accelerated these trends. As a result, the types of jobs available and the skills required to perform them are also changing rapidly.
Local governments, practitioners, and educators are at the frontline helping workers and jobseekers navigate this uncertainty. The extent to which local economies can reap the benefits of these changes will largely depend on local skills systems being prepared for the future.
The OECD Local Skills Week will explore how local communities can overcome local skills gaps and mismatches by helping people reskill and upskill throughout their working lives. The conference will bring together leading experts as well as local policymakers, businesses, employee representatives, and practitioners to:
Discuss the challenges and opportunities the future of work will bring to cities and regions,
Explore what strategies city and local leaders are developing to ensure future-ready lifelong learning systems,
Learn more about new data and methods to better anticipate local skills needs and innovative ideas on how to promote equality and inclusion through local skills systems.
Jacqueline Tanzer, WorldSkills Champions Trust Regional Representative for Europe, will participate in the session "Preparing Generation Z for the jobs of today and tomorrow" on 15 February.
During the conference, The OECD will also launch the reports on Future-Proofing Adult Learning in Berlin, Germany and the Policy Manual on Adult Learning in Cities and Regions.
The main event language will be English. Spanish/English and German/English interpretation will be available for some of the sessions.
Find out more OECD Local Skills Week virtual conference (15 to 17 February 2022) including details on the sessions and how to register on the OECD website.