International Women's Day 2021
Join WorldSkills as we host a #ChooseToChallenge Facebook Live Panel on 7 March.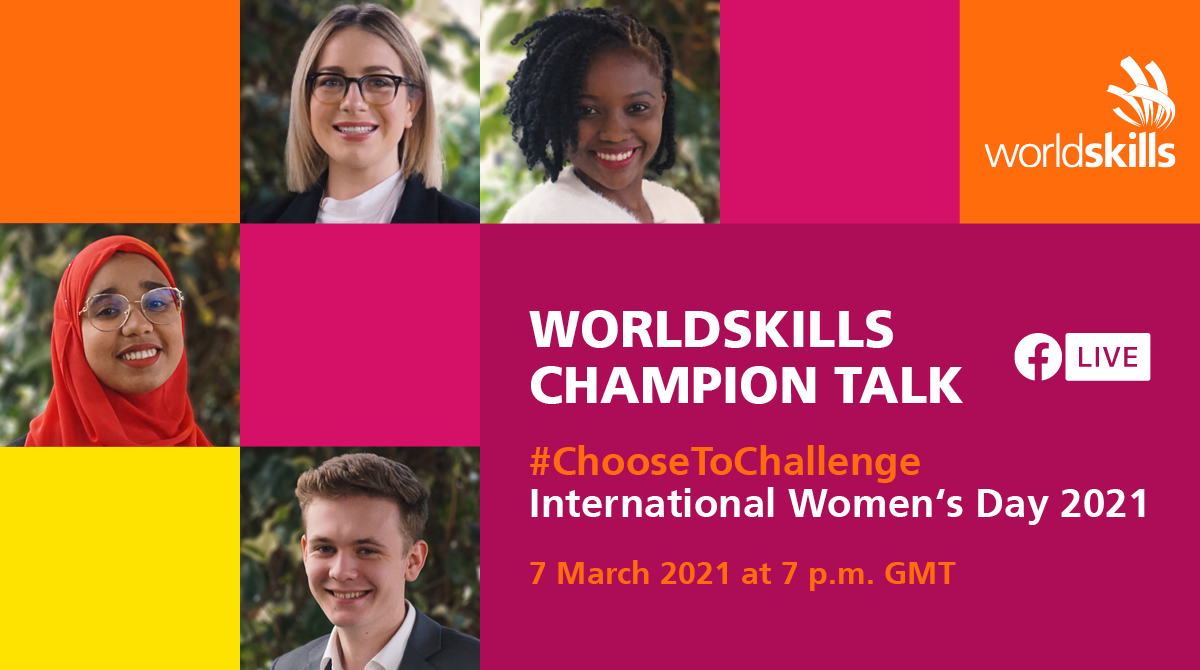 "In a crisis like COVID-19, girls and young women are the first to be removed from school and the last to return," Malala Yousafzai.
Shot in the head by the Taliban at the age of 15, the young Pakistani activist recovered to win the Nobel Peace Prize. Today her Malala Fund, created in 2013 to advocate for girls' education, has a chilling message on the impact of the pandemic.
The fund estimates that "20 million more secondary school-aged girls could be out of school after the crisis has passed."
This is the challenge we face this International Women's Day, 8 March. Almost every young person has had their education disrupted by this pandemic. While educators have worked tirelessly to limit the damage, getting students back into the classroom is a priority.
It seems now, though, that for many young women, their education may have ended prematurely. UNESCO, the United Nations Educational, Scientific and Cultural Organization, has formed a Global Education Coalition to support and promote learning in these difficult times.
WorldSkills, as the leading international advocate for vocational training and education, is proud to be an active member of this partnership, and we hope that our resources and experience have a valuable role to play,
It will undoubtedly be needed. UNESCO estimates that 11 million girls may not return this year as a result of the coronavirus.
Its report on girls' future prospects makes for stark reading. "This alarming number not only threatens decades of progress made towards gender equality, but also puts girls around the world at risk of adolescent pregnancy, early and forced marriage, and violence."
"For many girls," it concludes, "school is more than just a key to a better future. It's a lifeline."
In response to this global education catastrophe, the Global Education Coalition has launched its #LearningNeverStops campaign, of which gender equality is one of the main pillars.
It is a message that also resonates within the WorldSkills movement. WorldSkills has long promoted the need for equal access to skill development for women.
As the world of work changes, WorldSkills Competitions continue to expand into digital skills; it is important not to replicate the past issues that saw men take the lead in new and emerging industries. That is why we support the theme of International Women's Day 2021, #ChooseToChallenge.
We #ChooseToChallenge ourselves and our 85 Member countries and regions to promote an environment in which skills have no gender.
As millions of talented young women fear their dreams are about to vanish due to the pandemic, they should know they are not alone, that WorldSkills and many more millions stand with them.
Join WorldSkills as we host a #ChooseToChallenge Facebook Live Panel on 7 March (7 p.m. GMT), featuring #SkilledWomen and men sharing what a gender-equal world means to them, and ways you can #ChooseToChallenge inequality.