Skills and innovation created Indonesia's "Coronavirus Extermination Room"
Skills and innovation created Indonesia's "Coronavirus Exterminations Room"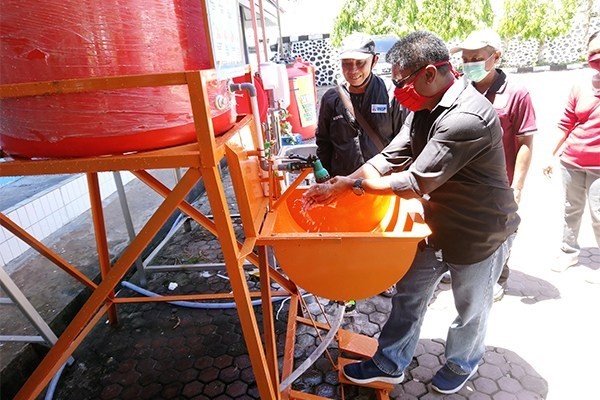 It sounds just like what the world needs most right now - a "Coronavirus Extermination Room."
That's the name given to a disinfectant booth created by motorbike technology and electronics students, working with their teachers at one of Indonesia's vocational high schools.
As the number of coronavirus cases began to rise, the Muhammadiyah 7 vocational school near Malang in East Java, turned their talents to tackling the virus.
The result was the design of Alif Supriyadi, head of the motorcycle and engineering business programme at the school, working with three students.
The disinfectant booth has walls of lightweight, waterproof polycarbonate in a metal frame with an electronic spray and a sensor that detects a person has entered.
Rather than chemicals, it uses a herbal disinfectant made from betel leaves, eucalyptus, and cloves. With a price tag of under US$640 the wheeled booth can be produced on demand and is already in use at several places of worship and government buildings,.
It's just one contribution vocational schools or Sekolah Menengah Mejuruan (SMK) that includes the production of masks, protective equipment, hand sanitizers, and automatic hand washing devices.
Hand santizer, in particular, soon became in short supply, with the SMK in Prajnaparamita responding through students in the pharmacy departments.
Lead by Dyan Wulandari, Head of the Pharmacy Department, production soon reached 500 bottles a day, distributed to hospitals, police stations and government offices in Malang. Their unique recipe includes aloe vera to keep the skin soft.
To encourage hand washing, hair beauty teachers at Magelang State SMKN 3, have been giving away bottles of soap, while schools in South Kalimantan province are making non-medical masks for the public as a response to inflated prices charged by some retailers.
In West Java. students at Yasti Cisaat Vocational School have been giving free mask to key workers, such as motorcycle drivers taking food and supplies to those unable to leave their homes.
With imported ventilators costing up to US$50,000 each, electronic students in Bandung, working with the Salman Mosque Trustee Foundation, the Bandung Institute Technology, and aircraft manufacturer PT. Dirgantara Indonesia, have designed and built a low-cost alternative for rural areas.
In total around 60 vocational schools have supported Indonesia's response to COVID-19, ensuring supplies of vital, and sometimes scarce, equipment reach those who need it most.