General Assembly 2020 Day 1 round up
Today marked the first day of WorldSkills General Assembly 2020, as 230 participants from 70 countries and regions joined the two-and-a-half-hour virtual gathering.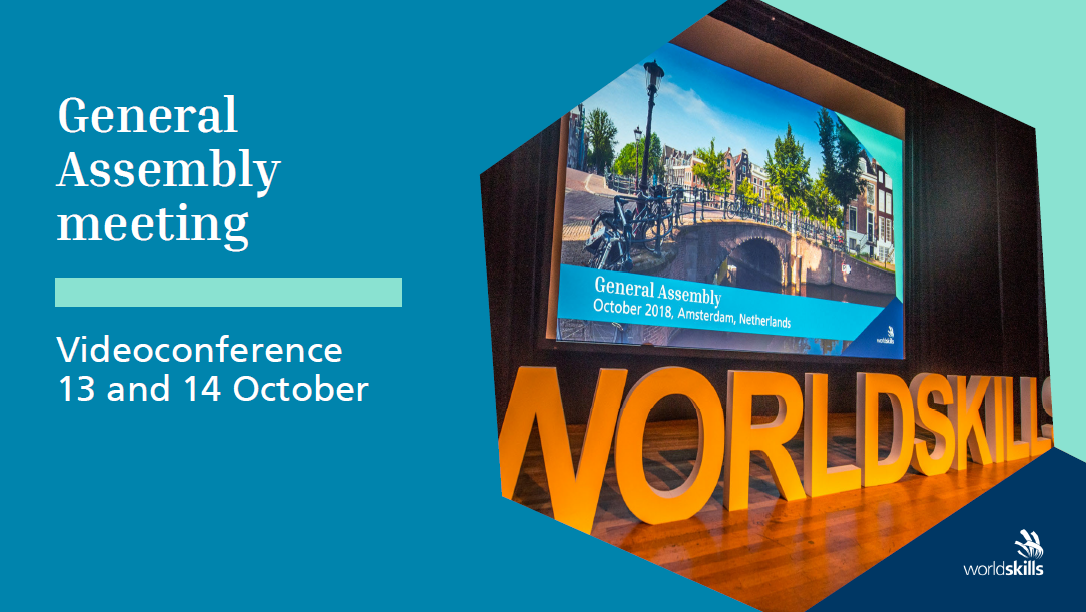 The annual in-person meetings of the WorldSkills community originally scheduled for Dublin, Ireland were replaced thanks to technical wizardry, which included secure online voting, allowing for business as usual for the world's largest vocational skills organization.
For their opening remarks, both Acting WorldSkills President and Chair of the Board, Chris Humphries and CEO David Hoey, paid tribute to Jos de Goey.
Jos de Goey's unexpected death in February after just a few months as President was "an extraordinary loss. Jos was a passionate advocate for skills and skills competitions," said Mr Humphries.
Similar sentiments were expressed by Mr Hoey, who confirmed that the Best of Nation Award presented by WorldSkills Europe would be renamed the Jos de Goey Award at future EuroSkills.
This year's General Assembly has been shortened to two sessions, with the addition of a special meeting on 20 October to discuss the impact of COVID-19 on WorldSkills Shanghai 2021, and numerous Working Groups leading up to the official General Assembly meetings.
It had been, as Mr Humphries put it "a year of two halves," with the triumph of WorldSkills Kazan 2019 and the optimism of that gathering, followed by the impact of the pandemic, which has severely disrupted both vocational education and skills competitions everywhere.
General Assembly 2020 welcomed three new Members in Azerbaijan, Kenya, and Uzbekistan, taking the WorldSkills movement to 85 countries and regions.
There was also the welcome addition of new Global Partners, with Amazon's AWS Education, Epic Games, and John Bean bringing welcome resources and support for the future.
In response to coronavirus, WorldSkills created its "Keep the World Moving" campaign with the support of 37 Members, along with many other measures and strategies to include the planning and delivery of future competitions, the General Assembly was told.
Chris Humphries was confirmed, in a vote by Members, as President and Chair of the Board, after nearly eight months of holding the post in an acting position.
A two-year term for current Board member, Terry Cooke, to fill the vacated position of Board member for Strategic Development Committee, was also voted on and confirmed by Members.
Without a hitch, votes were also cast remotely for the WorldSkills Board, with Laurence Gates, France, and San-Quei Lin, Chinese Taipei, reelected in their current roles for the Strategic Development Committee.
Uncontested elections saw John Oates, Canada, become Treasurer, and Michael Fung, Hong Kong, China, continue as Board member - Competitions.
The Chair thanked Ray English, Ireland, and Tim Lawrence, United States of America, for putting their name's forward for the Board, noting the outstanding leadership of all the candidates.
The first day ended with a presentation by WorldSkills Russia on the tremendous legacy of WorldSkills Kazan 2019 and the boost it had given to skills and vocational education across the Russian Federation.