Gender Stereotypes Challenged in Chinese Taipei's National Skills Competition
By San-Quei Lin, Chinese Taipei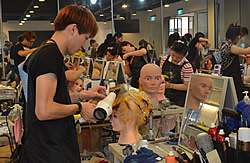 Chinese Taipei's 2012 National Skills Competition proved to be a great success despite the fact that the region was hit by a typhoon immediately prior to the event.
The Competition saw gender stereotypes challenged as the winners of the gold and silver medals in the Painting and Decorating skill were taken by female competitors – a first for the Chinese Taipei National Skills Competition. In a traditionally female dominated skill area, the gold medal of the Flower Arranging competition was awarded to a male competitor.
A total of 241 competitors took part in 45 different skill competitions from Polymechinics and Plumbing to Jewellery and Hairdressing in the three day event. Following 18 hours of fierce and fair competition the event concluded with a closing ceremony hosted in CTC.
Vice President H.E. Wu Den-yih, on behalf of President Ma, Ying-Jeou; extended his heartfelt congratulation and presented the awards to the winners of all skill competitions. Commenting on the competitors achievements he said:
"All the competitors put 100% into stretching their capabilities to the highest level and the standards we have seen at this competition have been very high. It is particularly pleasing to see the gender balance more equally distributed among skills, something which can only be good news for the future of our economy."
In total, the competition saw young men and women qualify to take part in 39 skills competition categories for the international WorldSkills Competition.
The final event being held in Chinese Taipei to select national winners for WorldSkills Leipzig 2013 will take place in September. Over 1000 initial registrations have been received for WorldSkills Leipzig 2013 which is taking place in Leipzig, Germany from 2–7 July 2013. The event is being billed as 'The Most Exciting WorldSkills Competition Ever'.