First ever Côte d'Ivoire Skills Competition a success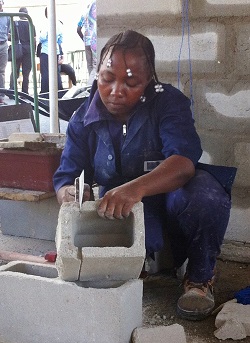 With only three months of intensive preparation and training, the inaugural National Skills Competition in Côte d'Ivoire was a success in the city of Abidjan with positive emotional impact on the young Competitors. The event was run in partnership between UNIDO and WorldSkills Foundation, and was a direct outcome of the Green Industrial Skills for Sustainable Development conference which was held on the opening day of WorldSkills Leipzig 2013.
Goodwill and enthusiasm were in evidence around the event. "Being in a good mood" was the key motivational factor for all those working together and sharing in the WorldSkills spirit, on top of all the preparations made by WorldSkills Experts, UNIDO, State Ministry, Ministry of Employment, Social Affairs and Vocational Training, and the participating schools and Competitors.
"It was a very positive surprise to see how emotionally involved the Competitors and teachers were when they were on the stage for the award ceremony. This event means a lot to them," said Michel van Erkelens, Project Manager for the event on behalf of WorldSkills Foundation.
Around 15,000 people visited the Skills Competition and accompanying Job Exhibition 14-16 May. In addition to local companies, schools and training institutes were the main audience. Many of these visitors hope to have similar events in the future, and maybe even witness their young Competitors participate officially at WorldSkills Competition one day.
"After this competition, I'm going to work harder and be better! Everyone needs a house and I'm going to build more houses!" said Aman Julienne Yeboua, the only female Competitor in Competition.
Aman represented her school in the skill of Bricklaying, and while she did not win a medal, her motivation to succeed is invaluable.
Following the success and great example of the UNIDO-WorldSkills Foundation partnership in Côte d'Ivoire, the two organizations are keen to collaborate further on skills training initiatives that reach out to more young people in less developed countries.