First Brazilian to win WorldSkills medal!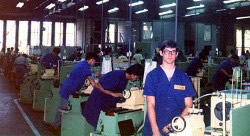 By Michelle Bussey, WorldSkills International
In 1981, Brazil became a Member of WorldSkills. But it was not until 1995 that they brought home their first international medal. The WorldSkills Competition was held in Lyon, France and the Competitor was Anderson Scarlassara in CNC Turning.
When Anderson was ten years old, his father founded the family company, where they make parts for Volvos and aircrafts as well as food industry equipment pieces. Once he turned twelve, Anderson began working in the family business doing little tasks at first and really enjoyed it. At fifteen, he went to SENAI to train as a machinist as his father needed that skill in his team. It was his father's guidance and encouragement that introduced him to SENAI. Anderson wanted to use all the machines in his father's shop but was forbidden to touch any machine until he went to school and had the proper training.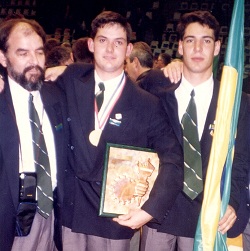 In 1990 Anderson was a student apprentice in Volvo and ten years later became a CNC Turning teacher completing the circle and giving back as Chief Expert at the national competition. In 1995 after lots of hard work and training, Anderson made it to Team Brazil and was off to France. After four days of competition, emotions were running high but finally at the Closing Ceremony, Anderson heard his name announced as a medallist!
"It was very exciting, it's hard to describe. I got a great rush of adrenalin because there were so many victories. You know...you recall all the difficulties you had in just a few seconds. I went through unbelievable problems to get to this stage."
From 2000-2007, he remained active in WorldSkills and became Expert and eventually Deputy Chief Expert at the WorldSkills Competition in Shizuoka 2007. Today he uses all his knowledge and experience to train the employees in his family company where he is now a partner responsible for the commercial department. He also continues to learn and is studying for a post graduate degree in management.
Brazil has come a long way in the last 17 years since winning the first medal in 1995. They have consistently performed in the top five countries for the last several WorldSkills Competitions and are among the largest delegations. When I asked Anderson how he felt about Brazil's success he was
"VERY satisfied, we know some sectors in Brazil need to be improved and the SENAI participation is our reference. It shows us the hard work that the SENAI leadership and team have done since becoming affiliated with WorldSkills."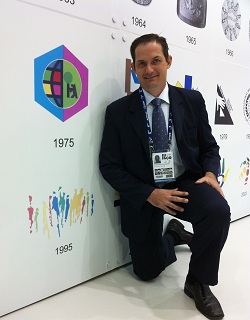 Anderson's advice for future Competitors is to
"Start choosing and taking technical courses as early as possible so that you have time to explore your many options. Once you define the skill you want to work in, continue to improve your knowledge, study and dedicate yourself to that skill. Also choose role models and mentors that are good, intelligent and inspiring people, and follow them."