Dmitry Livanov met with WorldSkills Russia's first national team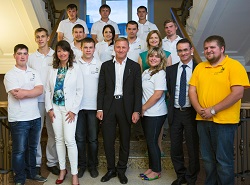 By WorldSkills Russia
On 21 August 2013 Dmitry Livanov, Minister of Education and Science of the Russian Federation, held a meeting with the members of WorldSkills Russia National Team.
The meeting was dedicated to the results from the WorldSkills Competition, that took place in Leipzig, in July 2013 and also to the issues of vocational education improvement in Russia. It was admitted by the Minister, that
"in several years we will create 25 million high-performance workplacements, which will be taken by a new generation of young people. Therefore, our vocational education training system needs serious changes: the apprenticeship of young specialists must be cared for with the usage of the most contemporary technologies, keeping the educational programs that respond to the labor market demands."
The Competitors told the Minister about their participation in 1st National Russian and international WorldSkills Competition. They also shared their vision on improving the Team's preparation and training process for the upcoming WorldSkills Competition in Brazil in 2015.
Vitalina Mardaryeva, member of WorldSkills Russia National Team (Skill: Hairdressing) stated in her speech, that
"participation in the Competition gave me an extensive experience as well as to other members of First Russian National Team. This will help us to get future participants prepared for upcoming Competitions. I hope, that future Competitors that I teach will achieve great success in Brazil in 2015."
Dmitry Livanov said at the meeting
"The participation of our team in skill competitions within WorldSkills helps them to understand, what skills and competences are mastered by their foreign fellows and how they can achieve this high performance of the work. Certainly, this experience will be useful not only to the Competitors, but for the whole vocational educational system."