Countdown to EuroSkills Spa-Francorchamps 2012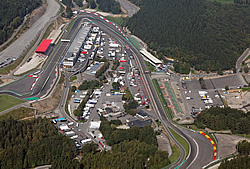 In less than two weeks, Belgium will host EuroSkills Spa-Francorchamps 2012, the third European Championship for manual, technical and technological skills. The Spa-Francorchamps racetrack will put on Europe's largest skills competition from 4-6 October.
There will be 417 young Europeans from 25 countries competing against each other for three days in 44 skills which are finding it difficult to recruit staff, both in Belgium and in the rest of Europe. The competition will provide an exceptional window on technical and manual know-how and a space for mobilization and reflection on skills training.
The Competitions comprise 44 skills in six major sectors:
Creative Arts and Fashion
Information and Communication Technologies
Manufacturing and Engineering Technology
Construction and Building
Transportation and Logistics
Social, Personal and Hospitality Services
In these 44 skills different competition models are developed to simulate the real work environment. Besides the well-known individual competitions, there are also "One Trade Competitions" with more than one competitor and "Multi Trade Competitions", where more skills are combined in a competition. For example the "Cross Media Publishing" competition will see a Web designer, a Graphic Designer and a Print Technician working together.
More than half of the competitions are developed using this competition model. Three new skills have been added to EuroSkills 2012; Entrepreneurship, Floor Laying and Agricultural Mechanics.These skills are a real asset for EuroSkills 2012 as they give a good reflection of the European needs and developments. www.euroskills2012.info