Côte d'Ivoire gearing up for their first national skills competition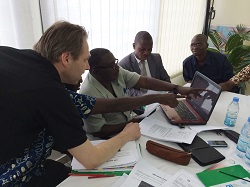 Abidjan is an important economic city of Côte d'Ivoire, located on the south-east coast of the country in the Gulf of Guinea. Fittingly, as a Sister City to São Paulo – host of the 42nd WorldSkills Competition in 2015 – it is also the place where Côte d'Ivoire's first national skills competition will take place from 15–17 May this year, an initiative supported by the WorldSkills Foundation (WSF) and United Nations Industrial Development Organization (UNIDO).
Between 24–28 March, 22 Experts from the Ministry of Technical and Vocational Training and five schools attended a Preparation Week which focused on the introduction and training of skills competition according to WorldSkills' standard.
"I believe they are capable, motivated and understand the big picture of WorldSkills and how it will benefit their country" says Michel van Erkelens who is the project leader and conducted the Preparation Week.
Mr Koffi Fofié, Director of Technical and Vocational Training, was briefed in detail on the planning for the upcoming Competition and the outcomes of the preparation week by Michel. Mr Fofié expressed his gratitude for the support from WSF and UNIDO, and is confident that this event signifies a small yet crucial step to help Côte d'Ivoire become a Member of the WorldSkills movement in the near future.
The successful start of this project has been made possible with the support from WorldSkills Members and Experts. Michel is leading a group of WorldSkills Experts who are contributing their time voluntarily to participate in this project, namely, Patrick Bouvard (FR) and Luc Lagneaus (BE) for Welding, William Lacey (IE) for Bricklaying and Maup Ruijsbroek (NL) for Carpentry. In order to break through the language barrier, WorldSkills France, Skills Belgium and Skills Canada have kindly provided skill related documents in French for the training of local Experts.
In May, 18 Competitors from local schools will join a national competition for the first time in their lives. We wish them the best of luck with their preparation, and we will continue to follow their stories from Côte d'Ivoire.