Become a global citizen. Become a change maker.
BeChangeMaker 2020 launches 17 February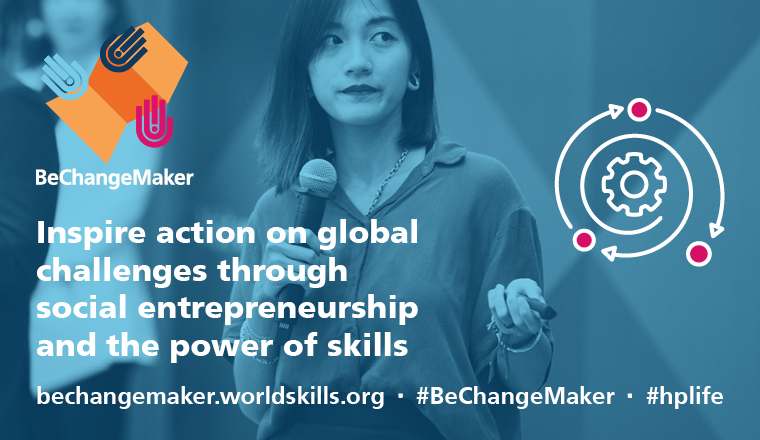 Launching 17 February is BeChangeMaker 2020, your chance to turn your big idea into reality, with free training and help from experts, plus the chance of financial support. At WorldSkills individual and societal change is central to what we do. BeChangeMaker supports the skill development of social entrepreneurs, so they can build businesses that positively impact the world.
BeChangeMaker is an online training programme that combines social entrepreneurship and the power of skills to inspire action on global challenges. We know that young people will drive the solutions to the economic and societal challenges of our world. That's why WorldSkills and the HP Foundation launched the first BeChangeMaker in 2017.
BeChangeMaker is a virtual social entrepreneurial training programme. It offers youth everywhere the chance to become a global citizen and a societal change maker. Two hundred young entrepreneurs have participated in BeChangeMaker since the programme started in 2017.
What to expect
Access to high quality learning content on HP LIFE
Effective tools and technology for startup acceleration support
Dedicated coaching, mentoring, and customized support
Connection to a diverse global network and join BCM global alumni
Top five teams earn a trip to Dublin, Ireland to take part in the live pitch finale
Through the free virtual training model youth around the world gain access to the training, education, and mentorship to transfer their technical skills into business ideas.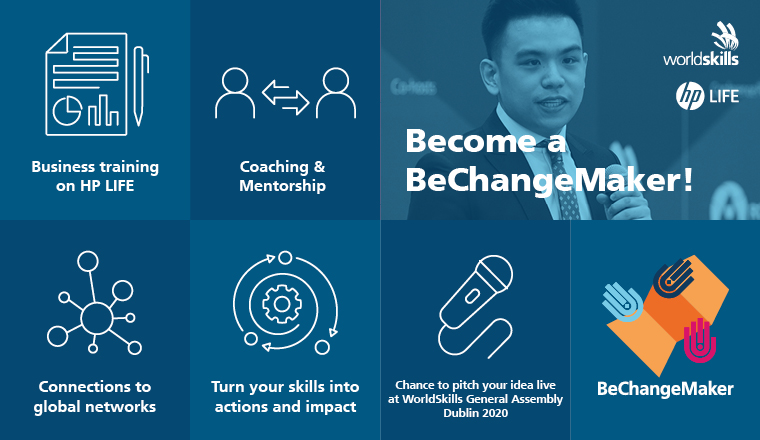 Together we are developing young people to become young entrepreneurs to address the United Nations Sustainable Development Goals.
Thirty teams whom will be chosen to officially join BeChangeMaker 2020 will participate in three months of intensive training and coaching, which includes online pitch competitions to pick out the top five teams that will be invited to pitch their ideas live at WorldSkills General Assembly in Dublin, Ireland.
The top five teams will each receive EUR 1,000 worth of customized post-programme training. Additionally, the top three teams will each receive EUR 2,000 cash award.
Visit BeChangeMaker 2020!