Youth Forum 2010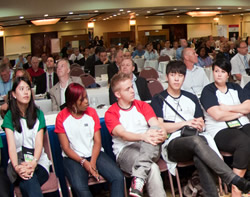 After four days of intense workshops and a few cultural excursions, the WorldSkills Youth Forum (WSYF) finally got to take the stage at the WorldSkills General Assembly (GA).
In front of WSI's Member countries/regions, they presented six campaign videos including some very strong taglines, followed by suggestions on how to introduce them to the world.
The energy level was high as the presenters entered the stage, lead by our Host's Sam Fairgrieve (Bricklayer, UK), Katie Watson (Restaurant Service, UK) and Omar Johnson (Web Design, JM). For about 40 minutes the WSYF took the audience on a journey through their own WorldSkills experience, having reflected on the influence WorldSkills can have on a variety of target audiences. Some of those people being celebrity spokespeople, employers, non skills believers and youth at risk of dropping out of the educational system.
Not a single sign of nerves could be found on the presenters and everything went as they had rehearsed in the morning. After the presentation the GA Delegates were invited to mingle with the WSYF and ask questions.
I would like to thank our Global Industry Partner Cisco for supplying us with a Flip (video camera) for each group. The WSYF participants voted on who had inspired them the most and the six highest votes were given a Flip afterwards.
I would also like to thank WorldSkills Jamaica for an outstanding social programme, we all had so much fun and the hospitality we have met here in Kingston have been overwhelming. Last but not least, to all the WSYF participants: wah a gwaan mon!

---
Participants

Megan Kuhn
Australia


Andrew Arthur
Australia


Isabelle Collin
Canada


Pierre-Luc Coté
Canada


Helle Barnholt
Denmark


Kenneth Meldgaard
Denmark


Ville Rämö
Finland


Elina Salminen
Finland


Siu-hang (Anson) AU-YEUNG
Hong Kong


Omar Johnson
Jamaica


Alia Wedderburn
Jamaica


Ian Buckham
Jamaica


Daneil Brooks
Jamaica


Sashamoie Battick
Jamaica


Shawn McLean
Jamaica


Jasan Pusey
Jamaica


Marvin Robinson
Jamaica


Orane Johnson
Jamaica


Anesha Simpson-Nembhard
Jamaica


Hee Gyung Choi
Korea


Sung Hun Park
Korea


Bob Kramer
Netherlands


Sanny van Essen
Netherlands


Jorge Strocen
Spain


Héctor Escriche
Spain


Joakim Karlsson
Sweden


Fabian Vogler
Switzerland


Samuel Fairgrieve
United Kingdom


Katherine Watson
United Kingdom
---
Facilitators

Christine Scoot
Marketing and Project Coordinator, WorldSkills International Secretariat.

Nanna Schlichtkrull
Process Facilitator
(Denmark)
Currently studying to get her Master's degree in Psychology at the University of Copenhagen and working for the Royal Danish Defence Academy at the Institute of Leadership and Organisation. Here she facilitates leadership courses and teambuilding exercises for the management teams. She is currently writing her thesis on the leadership of volunteers.

Harry Smith
Technical Coordinator,
Champion from team UK 2007 in Graphic Design.
(United Kingdom)
Currently employed by UK Skills as their Alumni Co-ordinator.

Jarrad Langdon
Technical Coordinator,
Champion from team AU 2005 in Web Design
(Australia)
Owns his own company, Jaladesign, and works freelance for WSI.

Marlon Maulsby
Social Coordinator,
Champion from team Jamaica 2007 in Web Design
(Jamaica)
Marlon is currently employed by the Heart Trust NTA as a Junior Programmer Analyst.
---
Presentation
Saturday, 9 October 2010
Wyndham Hotel, Kingston
Opening Remarks/Welcome & Introductions
Sam Fairgrieve UK
WSC2009 Competitor in Bricklaying
Kaite Watson UK
WSC2009 Competitor in Restaurant Service

Watch this segment - 7:16
Team Paris
Presenter:
Orane Johnson JM
WSC2007 Competitor in IT/Software Applications
Team Members:
Elina Salminen FI
WSC2009 Competitor in Ladies'/Men's Hairdressing
Héctor Escriche ES
WSC2009 Competitor in Web Design
Sunghun Park KR
WSC2009 Competitor in Cooking
Katie Watson UK
WSC2009 Competitor in Restaurant Service

Watch this segment - 4:32
Team Sydney
Presenter:
Bob Kramer NL
WSC2009 Competitor in Mechanical Engineering Design (CAD)
Team Members:
Isabelle Collin CA
WSC2009 Competitor in Beauty Therapy
Ville Rämö FI
WSC2009 Competitor in Bricklaying
Anesha Simpson-Nembhard JM
WSC2005 Competitor in IT/Software Applications
Omar Johnson JM
WSC2005 Competitor in Web Design

Watch this segment - 5:03
Team China
Presenter:
Helle Barnholdt DK
WSC2009 Competitor in Restaurant Service
Team Members:
Andrew Arthur AU
WSC2009 Competitor in Manufacturing Team Challenge
Shawn McLean JM
WSC2009 Competitor in Web Design
Heegyung Choi KR
WSC2007 Competitor in IT/Software Applications
Daneil Brooks JM
WS Americas 2010 Competitor in Cooking

Watch this segment - 3:20
Team New York
Presenter:
Sanny van Essen NL
WSC2009 Competitor in Graphic Design Technology
Team Members:
Kenneth Meldgaard DK
WSC2009 Competitor in Carpenter
Au-yeung (Anson) Siu-hang HK
WSC2009 Competitor in Web Design
Alia Wedderburn JM
WSC2007 Competitor in Ladies'/Men's Hairdressing
Jasan Pusey JM
WSC2009 Competitor in IT PC/Network Support

Watch this segment - 4:12
Team Machu Picchu
Presenter:
Megan Kuhn AU
WSC2009Competitor in Ladies'/Men's Hairdressing
Team Members:
Pierre-Luc Coté CA
WSC2009 Competitor in Restaurant Service
Ian Buckhan JM
WS Americas 2010 Competitor in Web Design
Joakim Karlsson SE
WSC2009 Competitor in Metal Roofing

Watch this segment - 2:50
Team London
Presenter:
Fabian Vogler CH
WSC2009 Competitor in Web Design
Team Members:
Jorge Strocen ES
WSC2009 Competitor in Restaurant Service
Sashamoie Battick JM
WS Americas 2010 Competitor in Hairdressing
Sam Fairgrieve UK
WSC2009 Competitor in Bricklaying

Watch this segment - 3:07
Closing