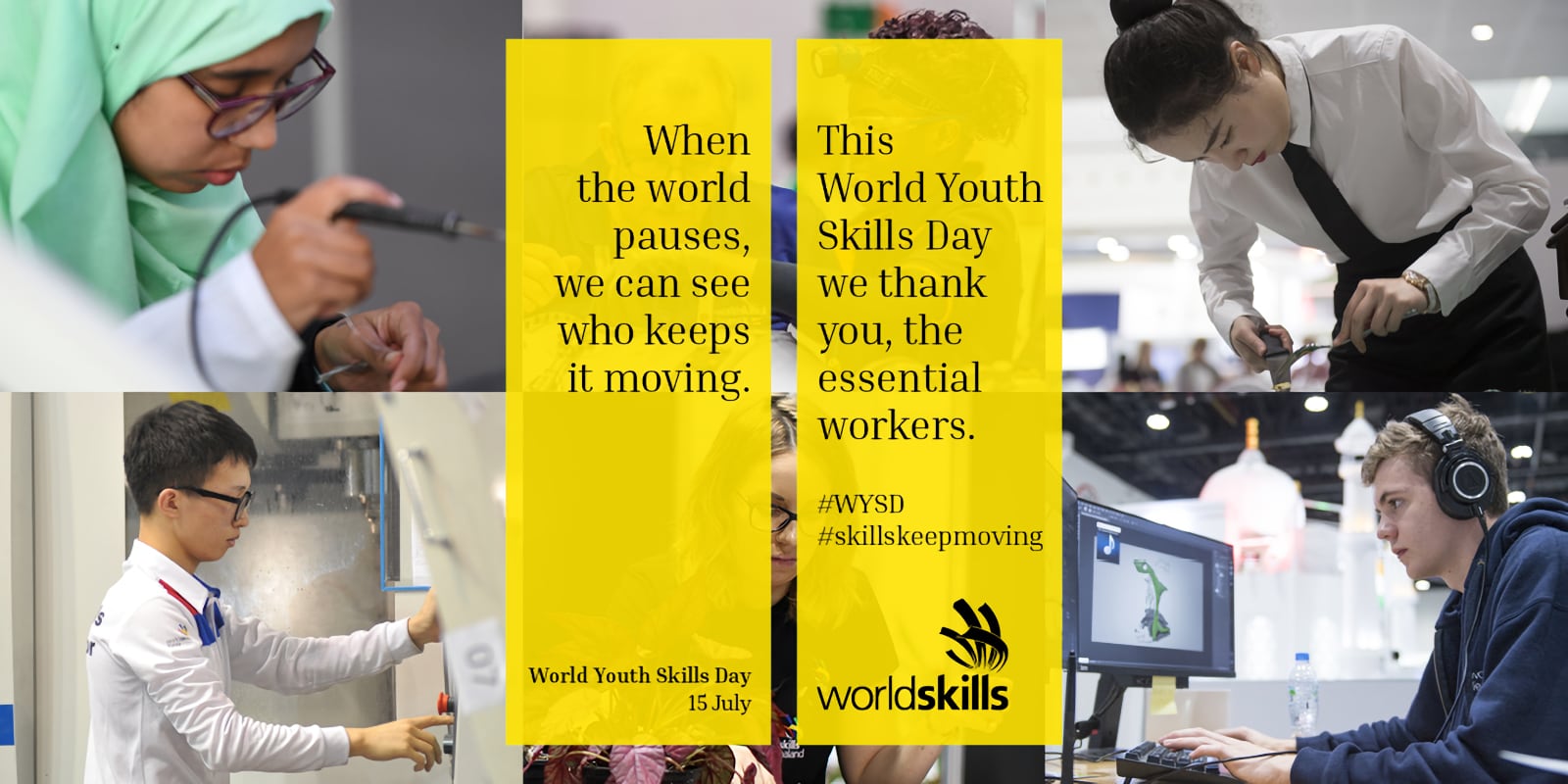 The United Nations, at its General Assembly in November 2014, declared 15 July as World Youth Skills Day. WorldSkills is proud to be part of a global recognition and promotion of skills.
Join us using the hashtag #wysd so we can see all your activities and events.
In 2020, our World Youth Skills Day activities were part of the #skillskeepmoving campaign, a global initiative to recognize the work of essential skilled workers during the pandemic. One highlight of our activities included a focus on skilled, young people at the 15 July WorldSkills Conference Talk.
We heard from a diverse collection of WorldSkills Champions from around the world about how the global pandemic has impacted them and their fellow skilled professionals. The Champions presented different challenges and topics they were confronted with and that are the most pressing to be solved as we rebuild. They made suggestions for ways that young people can be central to the economic recovery.
Participating in the discussions were Borhene Chakroun, Director Division for Policies and Lifelong Learning Systems, UNESCO, as well as Chris Humphries, Acting President of WorldSkills.
WorldSkills at the UN
Once again this year a WorldSkills Champion spoke at the official United National Headquarters event. The 2020 event focused on Skills for a Resilient Youth in the Era of COVID-19 and Beyond, and included Shae White, WorldSkills Champion. Watch the video of Shae's intervention at 1:00:57.
Champions Trust representatives also participated in Skills for a Resilient Youth UNESCO-UNEVOC Conference 6 - 13 July. Three of WorldSkills Champions Trust shared their stories at a major online conference that will look for ways to support youth and skills during the COVID-19 pandemic.
The event, Skills for a Resilient Youth, is part of World Youth Skills Day on 15 July and is organized by the United Nations body that supports Vocational Education and Training, UNESCO-UNEVOC. The three Champions are Leo Rodrigues from Brazil, who competed at WorldSkills São Paulo 2015 in Jewellery, Shae White of Barbados, who competed at WorldSkills Kazan 2019 in Cooking and Yousra Assali, the Electronics Competitor for Morocco, also at WorldSkills Kazan 2019.