Plastering and Drywall Systems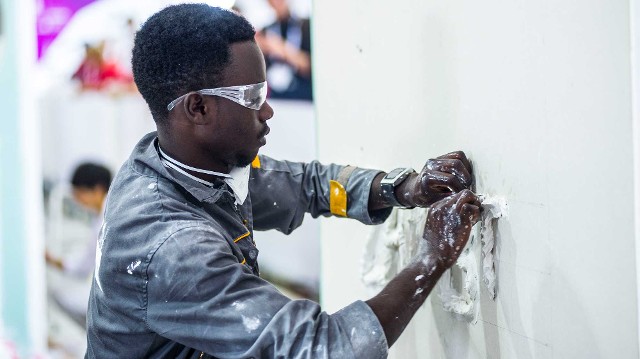 Plastering flat surfaces, installing drywall systems, and creating decorative moldings on projects from private homes to historic houses.
Plastering and Drywall Systems could be for you if you like:
Craftsmanship
Fixing things
Making things
Using tools
Working as a team
More about Plastering and Drywall Systems
Plasterers work on both inside and outside surfaces, often creating metal frames and installing plasterboard to create drywalls before applying the final plaster surface.
They will know how to interpret plans using a range of materials and are able to work on projects that include curved surfaces, windows, doors and decorative molding.
Plasterers are typically employed as sub-contractors for work on domestic and commercial projects, as well as heritage sites.
---
Recent medallists in Plastering and Drywall Systems
WorldSkills Competition 2022 Special Edition
Hongda Ma

China
Gold

GUAN-YU CHEN

Chinese Taipei
Silver

Adrian Büttler

Switzerland
Bronze
---
Our partners

Saint-Gobain is the world's leading manufacturer and supplier of sustainable, innovative, lightweight interior building systems, operating in over 50 countries and employing over 190,000 people, with brands that include British Gypsum, Placo, Rigips, CertainTeed and Gyproc. It seeks to to encourage and reward young people in their endeavours to acquire the skills necessary to succeed in their chosen careers.
---
Occupational Standard
The WorldSkills Occupational Standard specifies the knowledge, understanding and specific skills that underpin international best practice in technical and vocational performance. It should reflect a shared global understanding of what the associated work role(s) or occupation(s) represent for industry and business.
Make your country proud
Find out how to start competing in a competition.