Youth, skills, and resilience: the view from WorldSkills Champions
In a normal year World Youth Skills Day recognizes and celebrates the importance of vocational skills and education in areas that range from promoting employment to gender equality.
This, of course, is not a normal year. COVID-19 threatens the future of millions of young people on every continent.
But as the final WorldSkills Conference Talk showed, young people in the WorldSkills family are determined to find solutions and a way forward past the current pandemic crisis.
Held on 15 July, World Youth Skills Day, the final Talk in the series brought together five WorldSkills Champions, and views and suggestions as diverse as their skills and locations.
As the moderator of the Talk, Acting President of WorldSkills, Chris Humphries, pointed out, coronavirus has created the deepest global recession for decades.
By some estimates, one in six young people have stopped working, while those still in jobs have lost nearly a quarter of their working hours. There have also been mass closures of centres of learning.
"Coronavirus has had a catastrophic impact on the economic prospects of young people," he said.
For another speaker, Borhene Chakroun, the Director of UNESCO's Division for Policies and Lifelong Learning Systems, this World Youth Skills Day, with its theme "skills for resilient youth" was "an opportunity for the international community to consider the importance of ensuring that youth acquire the relevant skills for life and work."
These include more than those currently offered by education and training, with "another set of skills that are important which are about engaging in society."
It meant developing "a capacity to navigate a troubled labour market, and understanding where are the opportunities, where are the challenges and to manage their expectations."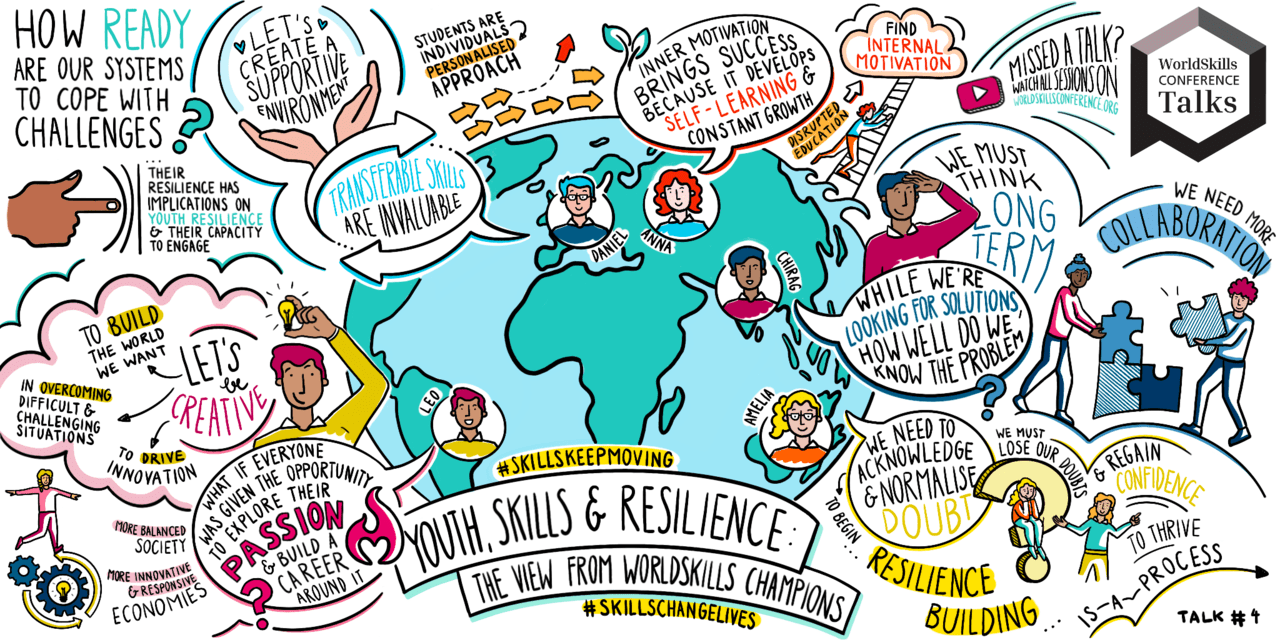 Each of the WorldSkills Champions taking part had been asked to speak to a particular theme.
For Anna Prokopenia from Russia and former representative for Europe with the WorldSkills Champions Trust, it was the topic of disrupted education. As a baker and pastry chef who is training in France, the loss of hands-on learning has led to "an inevitable drop in the quality of my education," she said, with both teachers and students suffering.
The way forward, she believes, is to look for internal motivation, "to let us find something in us, which is highlights our dreams, our passions, and our interests. To learn not because someone else told us that we need to learn."
Education should in the future focus more on personal growth, "taking into account everyone's personal stories, circumstances, talents to find out what makes us special, and try to develop it."
As a web designer in Germany, Daniel Christophersen, the Europe representative for the Champions Trust, said he had tried to understand why he had not been so badly hit by COVID-19.
Examining the theme of transferable skills, he said his company had adapted quickly to the changing situation. It was also important in his field to learn wider skills than just web design, including communication, time management, problem solving, and most of all autodidactic or self-learning.
Outside work, these transferable skills had helped him set up streaming services from his church. "This has been a big superpower for my work life and my personal life," he said.
The limits of technology as a solution for disrupted education were raised by Chirag Goel, former Champions Trust representative for Asia and a technology student from India now studying in the United States. These included mental challenges, the shrinking boundary between private and personal life, and the lack of quality in remote education.
"Technology is not a magic wand," he said. "Putting lectures online is not going to be enough." A major issue was the fact that almost half the world still lacked access to digital education." We should not be holding people's education hostage to their ability to afford technology or limit to the infrastructure available to that country."
A positive note was struck by Leo Rodrigues, the Champions Trust representative for the Americas from Brazil and Gold medal winner for Jewellery at WorldSkills São Paulo 2015.
The experience of lockdown had made him rethink his relationship with customers, he said. "I started to be creative and innovative in the way to translate and include the customer more in the conception and producing process, " he said.
"Having the client at the centre of the piece, listening to their input, making changes accordingly to what they want and keeping the very high standard of quality."
One unexpected effect of this strategy was that his sales had even gone up.
Finally, Amelia Addis from New Zealand, and Champions Trust Representative for ASEAN and Oceania, spoke about the personal concerns of many young people during the pandemic. On the theme of doubt, she had first wondered if her businesses, which included a florist and a garage workshop, would survive lockdown.
"This pandemic is unlike any other challenge that I've faced and instead of leaving me positive, it left me feeling really doubtful and no longer confident to innovate and adapt," she said. Regaining confidence and moving on from what she called "survival mode" meant overcoming this doubt.
For this, young people needed support to help them understand that everyone was affected by the pandemic and that their feelings were normal.
Doubt isn't the end of the journey," she concluded. "It's an opportunity for growth."
Watch the full Conference Talk.