Youth Forum campaigns WorldSkills International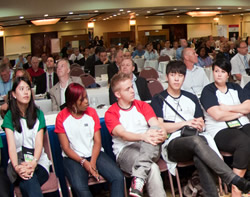 By Christine Scoot, Marketing and Project Coordinator, WSI
After 4 days of intense workshops and a few cultural excursions, the WorldSkills Youth Forum (WSYF) finally got to take the stage at the WorldSkills General Assembly (GA).
In front of WSI's Member countries/regions, they presented 6 campaign videos including some very strong taglines, followed by suggestions on how to introduce them to the world.
The energy level was high as the presenters entered the stage, lead by our Host's Sam Fairgrieve (Bricklayer, UK), Katie Watson (Restaurant Service, UK) and Omar Johnson (Web Design, JM). For about 40 minutes the WSYF took the audience on a journey through their own WorldSkills experience, having reflected on the influence WorldSkills can have on a variety of target audiences. Some of those people being celebrity spokespeople, employers, non skills believers and youth at risk of dropping out of the educational system.
Not a single sign of nerves could be found on the presenters and everything went as they had rehearsed in the morning. After the presentation the GA Delegates were invited to mingle with the WSYF and ask questions.
I would like to thank our Global Industry Partner Cisco for supplying us with a Flip (video camera) for each group. The WSYF participants voted on who had inspired them the most and the six highest votes were given a Flip afterwards.
I would also like to thank WorldSkills Jamaica for an outstanding social program, we all had so much fun and the hospitality we have met here in Kingston have been overwhelming.Last but not least, to all the WSYF participants: wah a gwaan mon!
The Final Report will become available shortly and you can already see hundreds of photos on www.worldskillsyouthforum.com where a video of the presentation will also become available soon.