Signing ceremony marks the formal start of planning for WorldSkills Shanghai 2021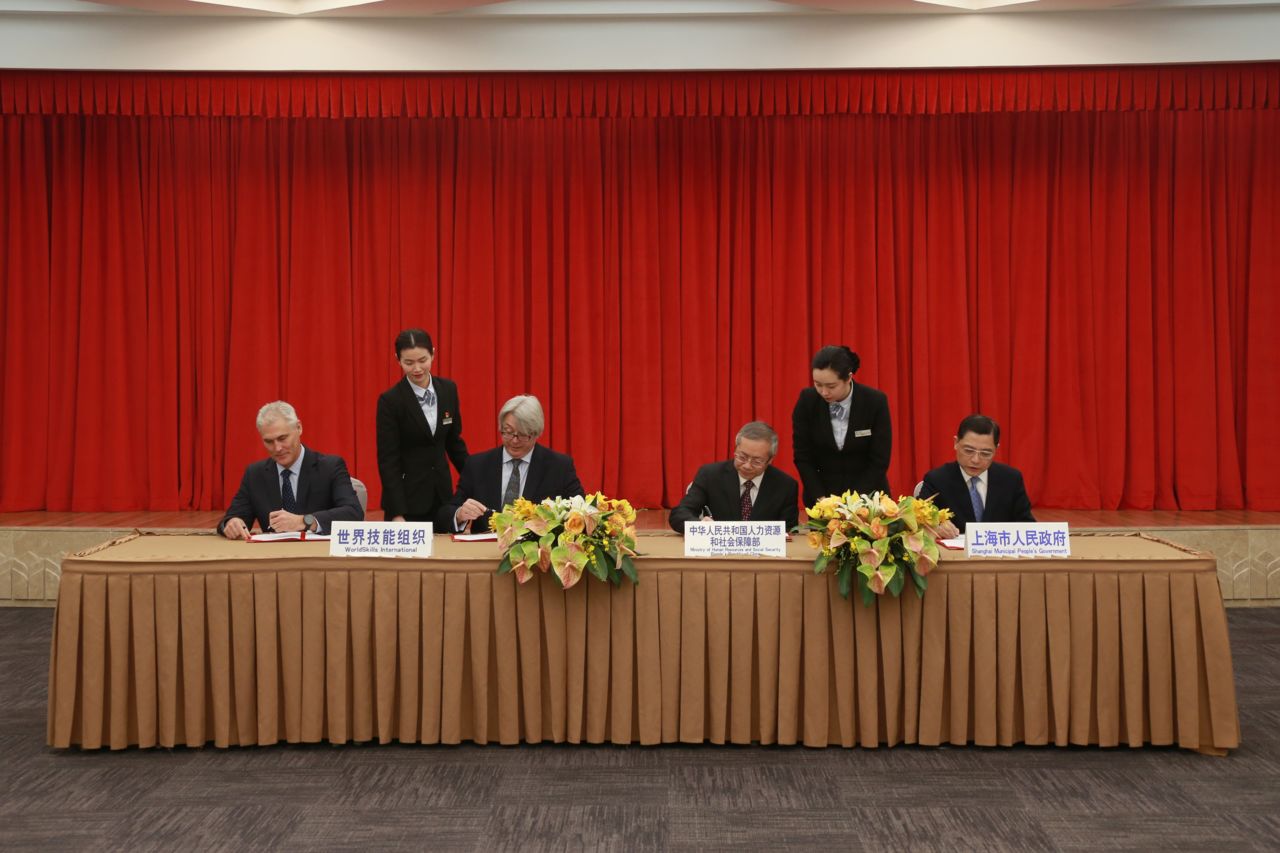 An MOU has been signed between WorldSkills International, the Municipality of Shanghai, and the Ministry of Human Resources and Social Security of the People's Republic of China. The ceremony, which took place in Shanghai City Hall was attended by the Mayor of Shanghai, Mr. Ying Yong, and by the Vice-Minister of the Chinese Ministry of Human Resources and Social Security, Mr. Tang Tao. The WorldSkills Board of Directors, and the CEO of WorldSkills International, Mr. David Hoey, were also present.
The 2021 WorldSkills event will be held in one of the world's most dynamic and ambitious cities. Shanghai, was confirmed as the host by the WorldSkills General Assembly in October 2017.
The slogan for WorldSkills Shanghai 2021 is "New Youth, New Skills, New Dream". The event, which is expected to be held in late September 2021, will take place at the National Exhibition and Convention Center in the city. The bid noted six main reasons why China want to host the event.
These included 'creating a social climate that respects labour and skills', and 'using skills to help alleviate poverty'. China is the world's most populous country, and Shanghai is the nation's economic powerhouse. Shanghai has successfully hosted many high-profile global events, including the World Expo 2010 and the 2007 Special Olympics World Summer Games.
In addition to signing an MOU the parties signed a letter of intent about the establishment of the first WorldSkills Museum, to be built in Shanghai.
"We applaud China for the quality and vibrancy of its plans", said Simon Bartley, President of WorldSkills. "China's dedication to promoting skills in its young population, as well as to industrial development driven by technology and innovation is creating an environment in which vocational skills and skilled craftspeople can thrive. This makes the country a natural choice for the world championships of skills."
China has 165 million skilled workers and 45 million highly-skilled workers, with about 27 million students who are exploring and developing a wide range of skills at more than 12,000 vocational schools and colleges. The country has established more than 80 training centers that use pedagogical methods adopted from the WorldSkills Competition.
Initial planning meetings are now taking place between the WorldSkills management team, and representatives of the Ministry and the Municipality of Shanghai.