WorldSkills through the eyes of a Champion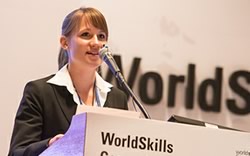 By Sabrina Keller, Switzerland, Gold Medal winner in Restaurant Service at WorldSkills London 2011
It is unbelievable that the WorldSkills Youth Forum 2012 is already a thing of the past but I'm sure that this awesome experience will always stick in my mind.
For me it was absolutely intriguing to see all the work behind the Competition. I was so impressed to see people from all over the world who are so interested in promoting young people and their skills and knowlege. That is so touching to me. I feel so thankfull for the ingenious idea of holding a Youth Forum.
It was so rewarding to discuss all that things which affected me after the Competition in London in 2011. The exchanges I had with other Champions affirmed the experince and the values behind it and drew me to the conclusion that there is a lot of potential in the future for Champions to support the development of WorldSkills. I think it is very important to make use of that potential and experience.
Nobody else would know better than the past Competitors how it feels to work so hard for a goal, how it feels to take part in a Competition and how it feels to be a winner and to be on top of the world. WorldSkills International has a lot of goals for increasing its potential in the future. Who could be a better help to support and deliver the goals than people who have lived and breathed the WorldSkills experience?
I can't wait fort the alumni network to be established and I'm really looking forward to supporting the WorldSkills Foundation Innovation Labs.Thanks to all those awesome people I met. Thanks for inspiring me with your work, your minds and your beings.
A personal note from Michelle Turpin, WSI Project and Special Events Manager, speaking on behalf of the facilitators and WSI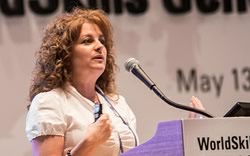 Thank you Champions – thank you for sharing your stories, for being so committed to your goals. Thank you for your enthusiasm, for your spirit and for your determination. Thank you for being who you are, each and every one of you. Thank you for contributing your honest thoughts and feelings at the Youth Forum. We are so proud of all of you. You truly are an inspiration to so many people. Thank you for reminding us why we are involved in this WorldSkills organization. It's because of all of you, all of the Champions, who we are all so proud of.
You are awesome!!