WorldSkills Premiere Experience 2011 wrap up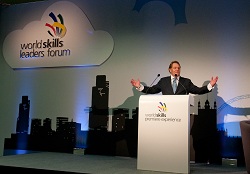 By Michelle Turpin, WorldSkills International
It is hard to believe that WorldSkills London 2011 is now in the history books and the WorldSkills Premiere Experience (WSPE) 2011 has wrapped up. The WSPE 2011 brought together many exceptional presenters from around the world, all of them dedicated to promoting vocational education and training in their countries/regions and organisations.
The WorldSkills Leaders Forum hosted speakers from both developed and developing countries/regions with a focus on how the skills movement can best be moved forward around the world. The Global Skills Marketplace featured dozens of interactive and engaging seminars where participants had a chance to explore topics in depth. Business in the Community, a United Kingdom organisation, hosted their second annual 'Big Conversation', that talked about making the world of work inspirational to youth. The conference and events 'Pick and mix' programme featured excursions, receptions for the Opening and Closing Ceremonies, networking lunches, an outstanding venue and participants that came together to network and share best practices with their global colleagues.
For all who participated, we would like to say thank you. Thank you for taking time to learn from and share with your colleagues, and be part of the WSPE 2011. We ask all participants to please visit www.worldskillspremiere.com and fill out the online survey. Your feedback will assist us in planning for the WorldSkills Premiere Experience 2013 that will be held in Leipzig, Germany. Please finish the survey to be entered into a draw for a chance to win a Samsung camera.
For those who were not able to attend the WorldSkills Premiere Experience 2011, please visit www.worldskillspremiere.com where you will find a link to all of the presentations, found on the 'Presentations and Videos' button.
WorldSkills International and WorldSkills London 2011 send out sincere 'Thank-You's' to all of our speakers and all of our participants. And we invite everyone to mark your calendars to attend the WorldSkills Premiere Experience 2013 that will be held in Leipzig, Germany July 2-7, 2013. We look forward to seeing you there!