WorldSkills London 2011 announces ceremony venue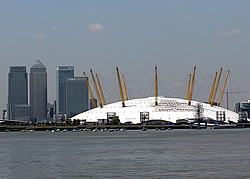 By WorldSkills London 2011
WorldSkills London 2011 has announced that The O2 has been chosen to host the Opening and Closing Ceremonies for the 41st WorldSkills Competition in October 2011.
The O2 is one of the biggest arenas in Europe and one of London's landmark venues. It will be the perfect setting for the Opening and Closing Ceremonies for WorldSkills London 2011, creating an exceptional visitor experience. As previously publicised, the Competition itself will be held at ExCeL London, a world-class multi-purpose venue just 10 minutes away from The O2.
A WorldSkills Competition has an extremely diverse range of requirements. Large, flexible spaces for competitions and ceremonies, catering facilities for thousands of people, accommodation and easy access are just some of the essential criteria. Both ExCeL London and The O2 were selected by WorldSkills London 2011 from an extensive range of venues due to their facilities, easy access for visitors, and their reputation for hosting successful international events.
WorldSkills London 2011 is very excited to be working with both The O2 and ExCeL London to bring you the most inspiring and interactive WorldSkills Competition ever.
For more information visit: www.worldskillslondon2011.com.