WorldSkills Leaders Forum - inspiring excellence!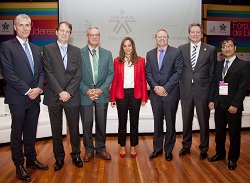 The WorldSkills Americas 2014 Leaders Forum has begun, under the theme of Inspiring Excellence: Challenges of Professional Training in Latin America in the 21st century. Several high profile speakers opened the event from Gina Parody D'Echenoa, General Director SENA, Rafael Pardo, Minister of Labor for Colombia, Rafael Lucchesi, President of WorldSkills Americas to Angela Escallon, Executive Director Corona Foundation.
The first session turned to the global perspective taking an in depth look at the scope and role of skills competitions as a strategy to improve quality of professional training. David Hoey, CEO of WorldSkills International gave an enlightening presentation on the important role that skill competitions have on economic development and growth within the host country and around the world. WorldSkills operates in 68 Member countries and regions, including several American countries.
"WorldSkills is the global hub for skills development and excellence. Through international cooperation and development between industry, government, organizations, and institutions, we promote the benefits of and need for skilled professionals through grass‐roots community projects, skills competitions, and knowledge exchange. We show how important skills education and training is for our youth, our industries and society by challenging young professionals around the world to become the best in the skill of their choice," said David Hoey.
An international panel moderated by Gina Parody D'Echenoa followed demonstrating the importance of skill competitions. WorldSkills was well represented and provided a truly international view to the panel. The panel members were: Rafael Lucchesi, Jos de Goey, President WorldSkills Europe, Terry Cooke, former Chair of Skills Canada, Mark Callaghan, CEO of WorldSkills Australia and Truong Chi Nguyen, Deputy Director General of the Ministry of Labour, Invalids & Social Affairs from Vietnam.
"WorldSkills is way more than just a Competition. While it is important to use the Competition to attract the crowds, what is more important is what happens after the Competition. The Leaders Forum is one of the best examples of the benefits of being a Member of WorldSkills. We get to share our knowledge on how best to fight youth unemployment across the globe, how to use the Competition to promote awareness, excellence and a generate an environment that gives skills the pace they deserve in our societies," Mark Callaghan, CEO WorldSkills Australia.
The Leaders Forum was a two-day event in Bogota, Colombia.