WorldSkills Leaders Forum details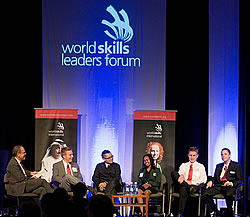 By Michelle Turpin, WorldSkills International
Being held on Thursday 6 October, the WorldSkills Leaders Forum (WSLF) will feature top speakers from around the world who will be addressing the impact that vocational training has on economic growth as it pertains to their country or corporation.
Following presentations from key leaders in business and commerce, participants will have their chance to engage in the WSLF through a 'Question Time' style session exploring the benefits of investing in skills, the role skills will play in the global economic recovery and the importance of striving for excellence as a way of motivating young people. This is a not-to-be missed event!
Every Member organisation receives two complimentary tickets to the WorldSkills Leaders Forum, please select the recipients of these tickets and send the information to Michelle Bussey at michelle.bussey@worldskills.org by Friday, 9 September, 2011. If you wish to send more than two people to the WSLF, please purchase the additional tickets in advance on the WorldSkills Premiere Experience website listed below. Tickets will not be available at the door as it is anticipated to be a sold out event.
The programme with topics and speakers is available at www.worldskillspremiere.com .