WorldSkills Leaders Forum 2014 - Lucerne, Switzerland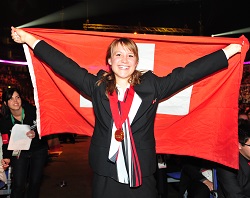 In September 2014, the world comes to Lucerne, Switzerland to attend the WorldSkills General Assembly. Delegates from the 68 WorldSkills Members come together for strategy, technical and overall organization discussions and decisions. One large part of this event is the WorldSkills Leaders Forum (WSLF) which is shaping up to be an impressive international view of skills, apprenticeships and the impact on the global economy and growth.
One of the keynote speakers will be Kofi Annan, Past United Nations Secretary General and Nobel Peace Laureate speaking about 'Skills - the door to our future'. Other speakers will be presenting topics such as 'The Private Sector's Need for Skilled Talent and its Role in Training' and 'Cost and Benefit of Apprenticeships'. WorldSkills will have an opportunity to present itself to the audience of leaders in skills excellence from around the world. The programme also includes an international panel discussion and workshops.
The WSLF is open to all Delegates attending the WorldSkills General Assembly and will also be attended by several European leaders in industry, education and government to round of this excellent networking opportunity.
For the full programme and more information please visit: www.worldskills2014.com