WorldSkills Leaders Forum 2009 - the largest ever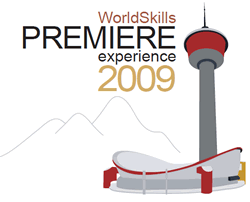 By Stephen Chase, WorldSkills Premiere Experience Coordinator
The WorldSkills Premiere Experience (WSPE ) , September 1-6, 2009 offers a unique opportunity for leaders from industry, government, and education to gather and discuss global skills issues, to network, and to experience the 40th WorldSkills Competition (WSC2009) in Calgary, Canada.
The WSPE includes the WorldSkills Leaders Forum (WSLF), the Global Skills Marketplace (GSM), VIP access to the at the Opening Ceremony at the Calgary Stampede Grandstand and the Closing Ceremony at the BMO Centre, guided tours of the Competition site, participation in the Restaurant Services competition , and many other premiere networking events.
More than 500 people will be attending the WSLF, making it the largest to date. The keynote address will be given by business executive, author, and consultant Don Tapscott. An internationally renowned authority on the impact of information technology on business, Don Tapscott is the author of "Wikinomics - How Mass Collaboration Changes Everything " , and "Growing Up Digital". In addition to giving the keynote address Don Tapscott will also moderate an interactive panel discussion with five Past Champions of the WorldSkills Competition. The panel will represent a cross section of various skills and technologies. The Past Champions will discuss the positive impact that participating in the WorldSkills Competition has had on both their personal and professional lives. Following the conclusion of the WSLF the Past Champions will take the WSPE participants on a guided tour of the WSC2009.
The GSM is a morning of interactive workshops that will address various global skills issues, followed by a luncheon for all of the 250 GSM participants. The workshops topics will include; utilisation of e-learning in skill development, international vs. national labour mobility, multiple assessment pathways and industry driven standards development.
"The WorldSkills Premiere Experience is for those people involved in the decision making on the employers side, on the education side, to meet and dialogue and put in impulse for better quality skills training," said Jack Dusseldorp, President of WorldSkills International.
Registrations are accepted on a first come first serve basis. To secure your place in the WSPE, please e-mail your expressed interest by April 24, 2009 to Stephen Chase, stephen.chase@worldskills.org
To download the registration form click here .
For more information, please visit www.worldskillspremiere.com