WorldSkills Kazan 2019 Volunteer Programme coaches are trained in Kazan
In preparation for the WorldSkills Competition 2019, 3,500 volunteers being trained.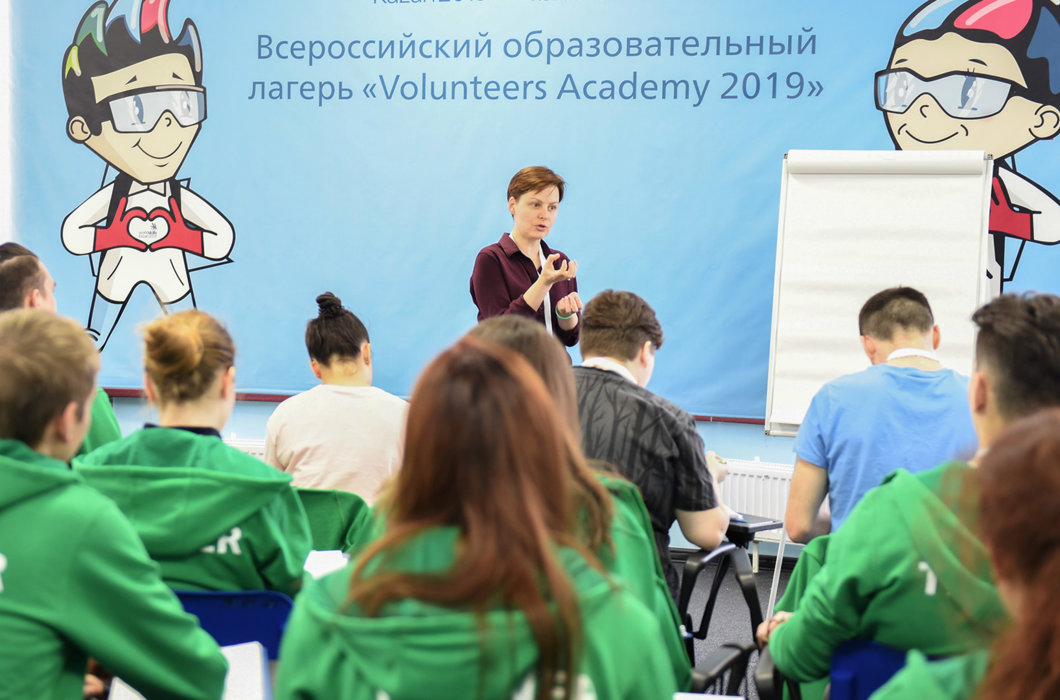 Creating a large volunteer team began for WorldSkills Kazan 2019, with its first training camp in 2017. Now with just a few months before the Competition, 30 representatives from Russian volunteer recruiting centers and 50 volunteer movement leaders from Tatarstan received training at the Volunteers Academy 2019 Camp to become coaches for the more than 3,500 being recruited.
The main goal of the Camp Organizers was preparation of the pool of coaches for training volunteers selected for WorldSkills Kazan 2019. One such delegate was Anna Shubina who joined the volunteer movement in 2011. "At that moment I was bored by doing some ordinary things and wanted to change something in my life. I found a group of volunteers and everything changed. Now I am a part of a great team and looking forward to the Competition," shares Anna.
The Deputy Minister of Youth Affairs Anna Zakhmatova became an honorable guest of the Camp. She emphasized the uniqueness of the project. A big team of volunteer recruiting centers led by Tatarstan team has been working on the project.
"We have an extensive experience in youth project implementation. I am glad that we have gathered together with colleagues. They can confirm my words: we have been moving forward with many of you for a long time. I am glad to see new faces. Thank you for the trust you have shown entering this path with us. I am sure that you will never regret: each of you will be introduced to the amazing world of skills and young professionals from all over the world! You, the future coaches of the volunteer program, have a special task to become guides in the land of WorldSkills for 3,500 volunteers. Be attentive and soak up everything you will be given these days, ask questions, share knowledge and learn from each other. Good luck!" said Ms Zakhmatova.
The training program is based on the principles of non-formal education and includes the best international practices for training coaches to work with volunteers.
Future coaches are trained within three key aspects: personality and competencies of the volunteer training programme coach; training design and technology of conducting training courses for volunteers; moral philosophy of coaching as part of a volunteer programme. These three modules are to help participants learn the necessary material and gain practical group work experience. The camp participants also have theoretical and practical sessions, test educational demo sessions with supervision, excursion to the main Competition Venue – the Kazan Expo International Exhibition Centre – and a cultural programme.
The camp participants who successfully complete the practical stages of the programme receive a certificate of a trainer for the WorldSkills Kazan 2019 volunteer educational programme. Later this month, they will start the implementation of the training part of the WorldSkills Competition Volunteer Preparation in Kazan and Russian regions.
For more news on WorldSkills Kazan 2019 visit https://worldskills2019.com.