WorldSkills Kazan 2019 Flag reaches the North Pole
The 45th WorldSkills Competition Flag reached the North Pole by the nuclear-power icebreaker "50 Years of Victory" of the Rosatomflot. Representatives of the People's Republic of China with the best results among foreign Competitors achieved at the WorldSkills Hi-Tech 2018. Suy Guan Liang and Luo Chan Yun carried the flag.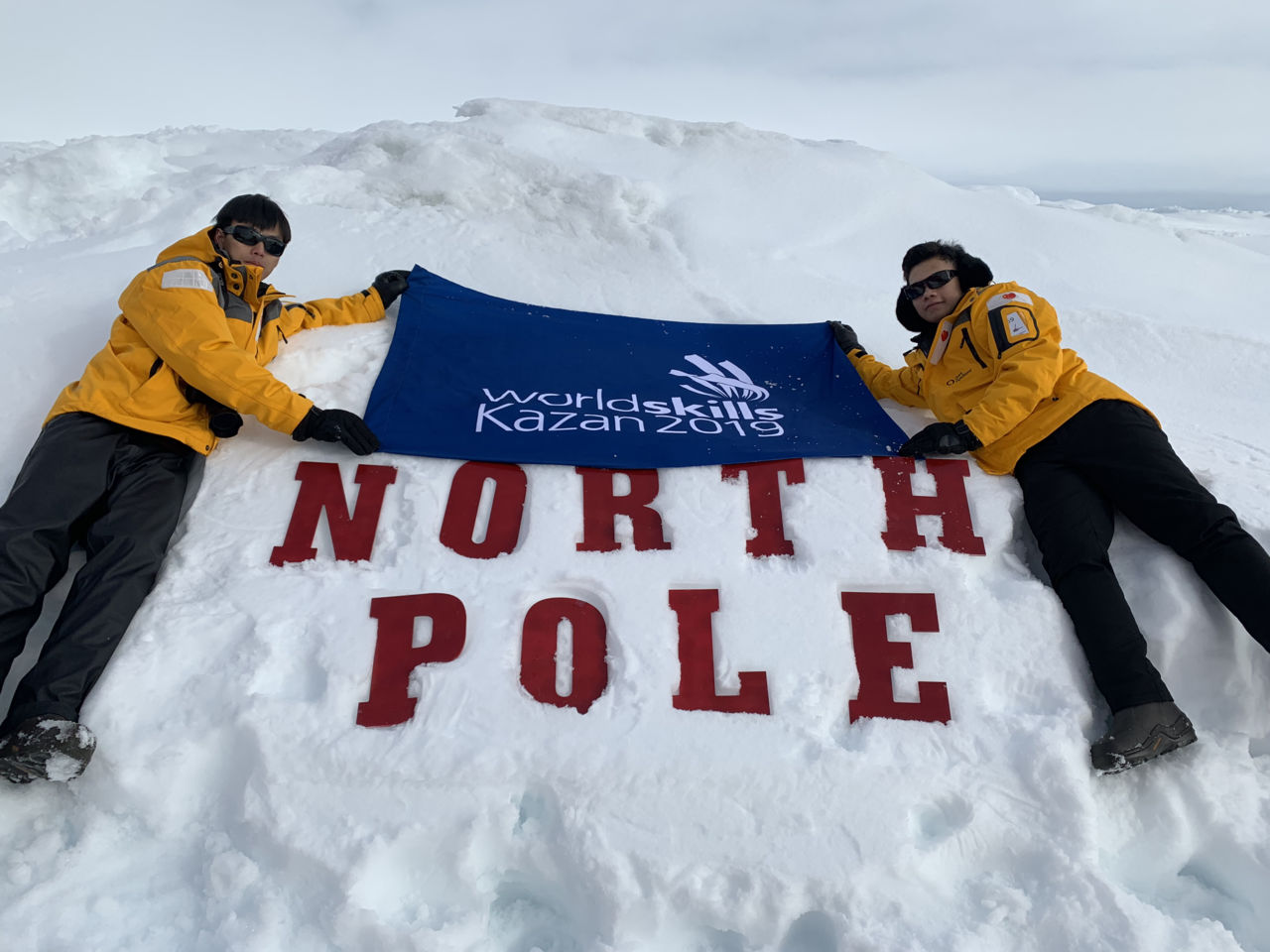 The historical event for the WorldSkills movement took place in the end of June 2019, when the Rosatomflot icebreaker reached the "top of the world", a unique geographical point of the globe located at latitude 90 degrees north and longitude 00 degrees.
"We are happy to have delivered the WorldSkills Kazan 2019 Flag to one of the most inaccessible locations on the planet! The flag has had a challenging but yet fascinating journey. The same feeling the WorldSkills participants will have during this tough but surely thrilling experience when competing with their best peers", noted Mobile Robotics professionals Suy Guan Liang and Luo Chan Yun. The icebreaker's route included the Barents Sea, Arctic Ocean, Tikhaya Bay, and Franz Josef Land.
"Together with the PRC team members, we took an active part in all activities of the expedition. Nature above the Arctic Circle amazes with its splendour and severe beauty. During this trip, the guys found that the challenges to get to the top of the world and to get prepared for the upcoming WorldSkills Kazan 2019 to prove you are the best in your profession have very much in common", said Madlen Baturina, Team Leader of World Skills Russia Team. Rosatom State Corporation is the National Strategic Partner of WorldSkills Kazan 2019.
"We are pleased that, thanks to Rosatom State Corporation, the flag of the WorldSkills Kazan 2019 World Professional Skills Championship visited the North Pole. The flag was already in space, in 20 countries of the world, where the WorldSkills World Championship had previously taken place, crossed all of Russia. Now he has been to another sign point in the world where he traveled on an atomic icebreaker", - says Emil Gubaidullin, project manager for WorldSkills Kazan 2019.
Meanwhile, the WorldSkills flag travels to 43 districts of the Republic of Tatarstan. This relay will end at the end of August in Kazan at the opening ceremony of the WorldSkills Kazan 2019.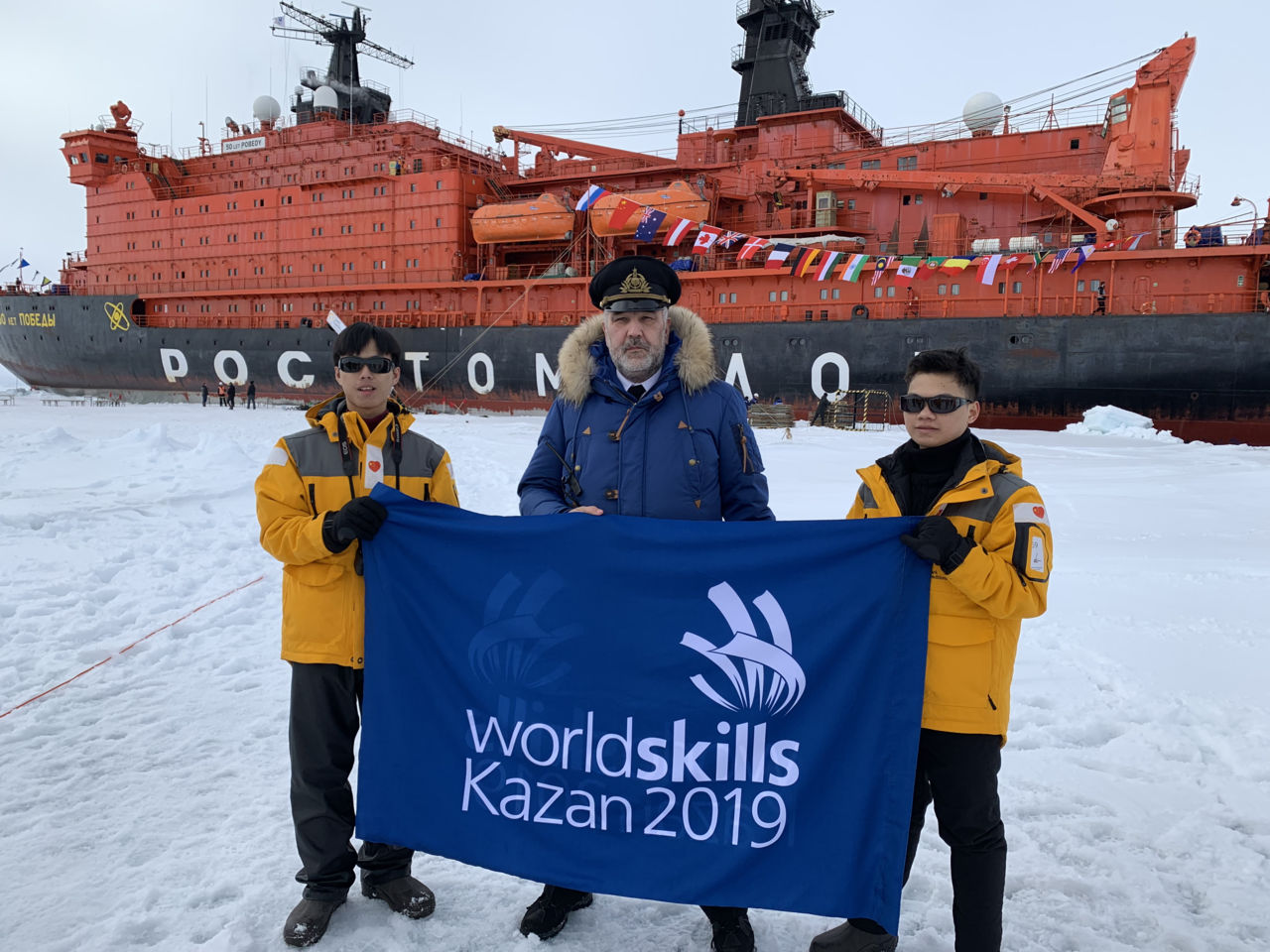 About WorldSkills Kazan 2019
The 45th WorldSkills Competition – the main international event of 2019 in Russia – will take place in Kazan on 22-27 August 2019. More than 1,400 Competitors from 67 countries will compete for medals in 56 Skills. Kazan won the right to host the Competition in 2015 having been ahead of other WorldSkills International member countries after voting. The WorldSkills Russia movement embraces 85 Russian regions and is one of the leading staff training projects.
Press Office of WorldSkills Kazan 2019 Competition Organizer