WorldSkills International President attends WorldSkills ASEAN Competition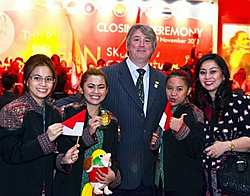 By Sally Eley, WorldSkills International
Indonesia pulled out all the stops for the ninth WorldSkills ASEAN Competition held in Jakarta 12-19 November. A total of 252 Competitors from nine countries participated in 22 skills and one demonstration skill.
The first WorldSkills ASEAN Competition took place in Malaysia in 1995. Since then the Competition has taken place every 2 years with a growing number of skill areas featured at each event. The objectives of the WorldSkills ASEAN Competition include promoting and strengthening solidarity and faster technical cooperation in vocational/technical education and training between Member countries.
Simon Bartley, President of WorldSkills International visited the Competition on its final day and later presented awards to the Bronze medal winners at a glittering award ceremony. He said: "WorldSkills ASEAN has been a superbly organized Competition. One of the great things to see has been so many happy, smiling faces and the excitement around the venue is electric. It is important to remember that skills competitions are about many things, not least fun and excitement and this has certainly been evident at this event. The standard for the competitions has also been very high and I commend everyone involved in WorldSkills ASEAN for an outstanding event."
Also in attendance at the Closing Ceremony was the Minister of Labour who presented the Gold medals and the Vice-Minister of Education for Malaysia who presented the Silver medals.