WorldSkills Foundation reports on its progress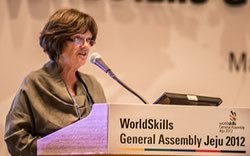 "WorldSkills Competitions raise quality, promote professional development and drive improvements in vocational training" is the core conclusion in a research report from WorldSkills Foundation. The report was presented at WSI General Assembly in Jeju by Dr Helen Smith, RMIT University.
The report is available on the Foundation website (www.worldskillsfoundation.org/move).
Members will be provided with a communication kit to support their own marketing of the important findings.
The research study is the first project presented by the WorldSkills Foundation (WSF) which was initiated by WorldSkills International in 2010 and launched together with five Founding Partners in 2011. WSF is in a start-up mode and will prepare and introduce projects in the area of research, advocacy and education. This work will be coordinated by Tommy Hellström, Project Director of WSF, and the Board of Trustees. Creating the WorldSkills Foundation was a strategic decision taken by the General Assembly of WorldSkills International to broaden the WorldSkills movement into areas additional to competitions bringing support and value to Members.
During the Jeju meetings a second project was discussed. This is titled Innovation Labs and is aiming to showcase that skills makes a difference for development. The first invitation to such a Innovation Lab was presented by WorldSkills Singapore and the Institute for Technical Education. The project turns to all national champions who have participated in WorldSkills Competition with an invitation to be a part of a Innovation Lab for a limited period of time.
Further information will available later on. For more information on the WorldSkills Foundation go to www.worldskillsfoundation.org