WorldSkills Foundation Board approves new round of projects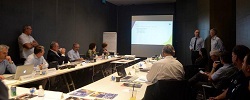 A number of new exciting projects have been reviewed and approved by the WorldSkills Foundation Board of Trustees and will be launched in the second half of this year and throughout 2015.
To coincide with the Water Innovation Challenge 2014, the WorldSkills Foundation Board of Trustees met in Singapore on 1 June to review new project proposals as well as evaluate the results and updates from ongoing and completed projects. Each project has been developed based on a strategic framework following the new WorldSkills branding and communication to generate benefits and sustainability of Foundation's works.
There will be more and closer collaboration with United Nations Industrial Development Organization on projects in Africa – building on the success of the first National Skills Competition in Abidjan – continued expansion of the Healthabitat Sanitation Studio programmes in less developed countries, and further development of the Virtual 3D Learning initiative. As part of the project proposals, the Foundation will also focus on the upcoming WorldSkills Champions Forum at the General Assembly 2014. Additionally, the potential of the Water Innovation Challenge and broader Innovation Challenge concept was also explored: the Project Development team will now begin to prepare for a second, improved edition of the Singapore event, with location and focus still to be confirmed.