WorldSkills Conference Talks highlight pandemic experiences for young, skilled professionals
Powerful, and sometimes moving, stories of how young people are being confronted by the challenges of the coronavirus pandemic emerged in the first of a series of WorldSkills Conference Talks.
Those taking part included three representatives of the WorldSkills Champions Trust alongside speakers from the UNESCO and from WorldSkills Global Partner, Festo.
Moderated by WorldSkills Acting President Chris Humphries, the Talk revealed the extent of the disruption and hardship caused by COVID-19 as well as ways in which vocational skills can lead the way forward.
For the youngest member of the panel, the pandemic has dealt a triple blow. Shae White, the Champions Trust representative for the Americas had been working as a chef in a Barbados hotel which was closed by the outbreak, as was the college she was still attending.
Shae White, who competed for Barbados at WorldSkills Kazan 2019 and won Best of Nation, suffers from asthma, which meant her employer took extra precautions to protect her health early in the pandemic
"I'm trying to get back into the motions of being essentially normal, from a complete standstill, and getting back into the groove," she said.
Amelia Addis, another Champions Trust representative from New Zealand, had her two businesses directly impacted by COVID-19.
Her company, which provides floral arrangement for weddings and events had all upcoming booked clients postpone their celebrations, while the automobile service business she runs with her partner had been shut for six weeks by lockdown.
Amelia Addis, who competed in Floristry at WorldSkills Saõ Paolo 2015, the challenge was "managing our own fears and uncertainties around what our businesses would look like after this but also the responsibility to our staff and customers."
The third Champion was Barthélemy Deutsch, who exchanged life in the hospitality industry to volunteer in a Brussels hospital.
Barthélemy Deutsch, who competed in Restaurant Services for Belgium at WorldSkills Leipzig 2013 was helping digitally connect patients, often desperately ill with COVID-19, to their loved ones.
"Now I had to deal with sadness, with sickness," he said. "You have to deal with death and even mental illness. That was something I was not ready for, so a big step into something unknown for me."
WorldSkills is hosting a series of Conference Talks over the coming weeks as part of its response to COVID-19, with the first one on the theme "keeping moving during a global pandemic."
"Now it's upon us to support young skilled professionals and help them keep their workplaces, continue their education and training, and follow their career paths further," David Hoey, the CEO of WorldSkills International, said in his introductory remarks.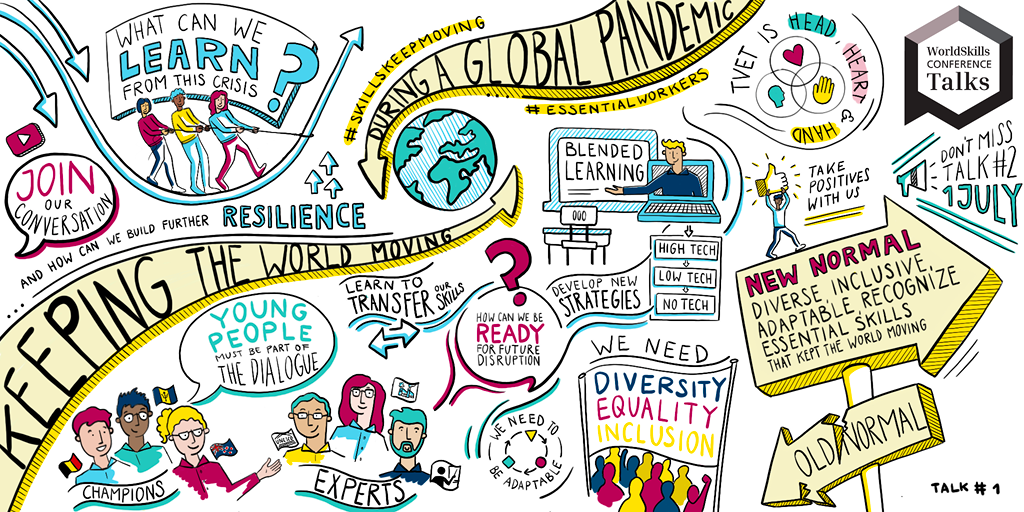 WorldSkills is a member of the, Global Education Coalition, a new initiative created by the United Nation's cultural and education organization, UNESCO.
Borhene Chakroun, the director of UNESCO's division for Policies and Lifelong Learning Systems, joined the discussion.
Also taking part were Elfi Klumpp, the head of Partnership Development Global Education at Festo Didactic and Mark Bramer, a representative on the WorldSkills Experts Faculty and an instructor of woodworking at Conestoga College in Ontario, Canada.
Young people were learning new ways of working during coronavirus, Borhene Chakroun said, and this needed to be developed.
"It's important that what we are calling the new normal is something that can be supported in better recognizing the skills that are acquired, and the transferability of those skills and potentially offering new learning opportunities," he said.
Mark Bramer said that in Canada his college had always stressed that students needed to learn what he called "soft skills" as well as the more technical requirements of cabinetmaking.
COVID-19 has really highlighted the softer skills, the communications skills, the inclusion skill," he said. "Those skills are becoming more and more important."
The global pandemic and call for action on diversity, is also transforming VET in ways that were likely to be long term, said Elfi Klumpp of Festo, with a major shift online and even to digital solutions for physical training that would normally be done in a classroom or workshop. "This virus is a game changer," she said.
Despite the huge economic and employment difficulties caused by coronavirus, participants in the talk were optimistic for the future, a mood summed up by Barthélemy Deutsch, who said the hospital experience meant when he went back to his regular restaurant guests this had taken my skills into another dimension."
A recording of the full 90 minute talk can be viewed on the WorldSkills YouTube channel.
The second talk "Can skill competitions, training, and assessments be effective online?" will take place on July 1. Registration is free and available here.