WorldSkills Calgary 2009 presents a Culinary Experience with Chef David Adjey
By WorldSkills Calgary 2009
With just 6 months to the 40th WorldSkills Competition, Food Network's Celebrity Chef David Adjey, one of the official spokespersons, helped celebrate WorldSkills Calgary 2009 Ltd. During a culinary demonstration and cocktail reception for invited guests and media. It all took place yesterday, at Divino's Wine and Cheese Bistro in Calgary.
"With WorldSkills Calgary 2009 around the corner, Chef Adjey's dedication to promoting the culinary trade to Canadian youth and inciting the food and beverage industry to get involved, gives a great reason to celebrate," says Richard Walker, President and CEO of WorldSkills Calgary 2009 Ltd.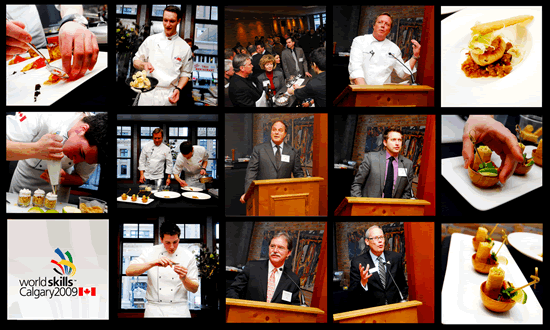 Highlights of this exclusive evening were Chef David Adjey's own succulent dishes and culinary demonstrations showcased by Skills/Compétences Canada's own 2009 Team Canada Cooking Competitor, Sébastien Laframboise, joined by the silver medallist at the 2008 Canadian Skills Competition, SAIT Polytechnic's own Jordan Clay. The demonstration offered guests a glimpse of what the "Culinary World" will bring to the WorldSkills Competition 2009.
"I'm thrilled to be part of the largest international event in Calgary since the '88 Olympics! I believe it's important for every chef to make better chefs; and as a skilled professional, promoting careers in skills, trades and technologies is an absolute honour", says David Adjey. "Encouraging students to find their career passion makes my work even more gratifying. The WorldSkills Competition this September is Canada's BEST opportunity to witness excellence in skills, trades and technologies".
At the 40th WorldSkills Competition in September, 34 Cooking Competitors from around the world will be vying for a place on the podium. Come and see Canada's Cooking hopeful demonstrate some of the skills coming to the world stage.
"Our first rate technical experts and the support of industry have historically produced high caliber Competitors that excel on the world stage. We feel hosting the event in our own country will raise the awareness of skilled trades and technology occupations and inspire our Team Canada Competitors to perform their best," says Shaun Thorson, Executive Director, Skills/Compétences Canada.