WorldSkills Australia prepares for National Competition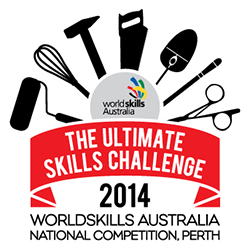 The 2014 WorldSkills Australia National Competition – 'The Ultimate Skills Challenge', is almost here. This year, the country's largest and most prestigious skill and trade competition will return to the city of Perth, marking 25 years since first hosting the event.
The National Competition, being held at the Perth Convention and Exhibition Centre between the 18th and 20th of September, will showcase 500 of Australia's best trainees, apprentices and students for three days of exciting competition.
This unique event will provide these young professionals with the opportunity to benchmark their skills against their peers in 50 specialised competition categories, ranging from the traditional trades such as Hairdressing and Automotive Mechanics to the more contemporary professions of Web Design and Mechatronics.
In addition to battling it out for the gold medal and the prestigious title of 'Nations Best', the competitors will also be vying for a coveted position on the 2015 Team Australia Skillaroos, who will head to São Paulo, Brazil for the 43rd WorldSkills International Competition.
Running alongside the live action of the national competition will be WorldSkills Australia's popular Try'aSkill program which provides visitors with the opportunity to try their hand at a range of interactive trade and skill activities.
WorldSkills International would like to wish all the 2014 WorldSkills Australia National Competitors the very best of luck.