WorldSkills adds Bricklaying and Plumbing to Bangladesh Sanitation project mix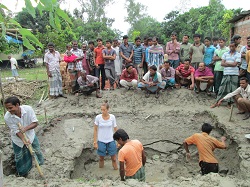 Bricklaying Chief Expert Troy Everett (Australia) and Plumbing & Heating Champion Daniel Rattigan (Ireland) were recently sponsored by WorldSkills Foundation to join the latest Healthabitat Sanitation Studio project in the Dinajpur region of northern Bangladesh. This was the second Healthabitat initiative the Foundation has supported, following our first collaboration in Nepal earlier this year.
Troy and Daniel joined up with a cross-discipline team including representatives of Engineers Without Borders, Krom Architecture and BRAC University (Dhaka), hosted by local partner SAFE Bangladesh. Following a similar format as previous Healthabitat initiatives, the team worked closely with the local community to ensure effective designs and constructions for new toilet and wastewater systems; ensuring these were built using locally available tools and materials, and passing on the technical skills necessary to ensure sustainable upkeep and maintenance of the new facilities.
"I really enjoyed the dynamic of working with the best bricklayers in the world one month [at WorldSkills Leipzig 2013], and then joining a remote community in Bangladesh to work at a completely opposite end of society the next," said Troy Everett. "I was also pleasantly surprised by the skill level shown by the locals and the way in which they were so innovative, working with far less resources. By the end there was real skills exchange going on and my only regret was that we couldn't stay longer! It was awesome on so many fronts."

Despite the challenges of working during the region's rainy season, outcomes of the 10-day visit included two new septic tank prototypes, wastewater pipes, hand pumps and two new toilet facilities fitted with meters allowing SAFE staff and local families to monitor the volumes of water in the system, allowing them to determine even more improvements in the coming months.
Daniel Rattigan – who celebrated his 24th birthday during the trip having completed his Plumbing apprenticeship last year – added:
"The whole WorldSkills experience gives you such confidence to take forward into your career. But once the Competition is over, you think 'that's the end of that!' Now, it is brilliant that WorldSkills can still think of you and get in touch to offer a chance to be involved in a project like this. The belief in you: to travel out to somewhere like Bangladesh and do a job like this, is great. Unbelievable! Such a great experience and very worthwhile."
You can see more from the Bangladesh project and follow-up Sanitation Studio programs planned for 2014 on the WSF website and Facebook page.
Are you interested in supporting a future Sanitation Studio, or developing a similar initiative? Get in contact at projects@worldskillsfoundation.org