WorldSkills Competitors encouraged to get that Champion feeling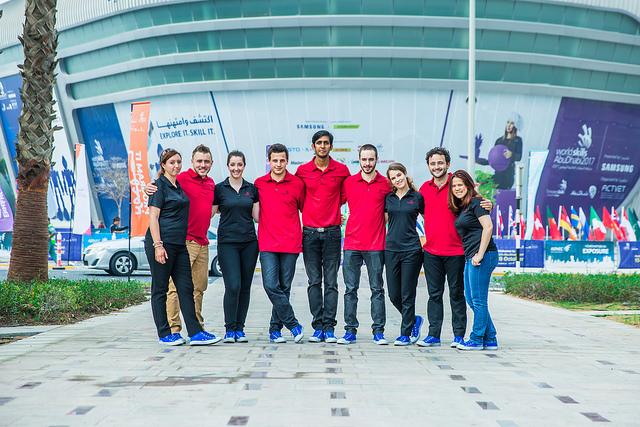 Competitors in WorldSkills Abu Dhabi 2017 are being encouraged to continue their WorldSkills journey once the world's biggest showcase of vocational skills ends – by becoming members of the WorldSkills Champions Trust.
As WorldSkills bids farewell to Abu Dhabi and prepares to take its mission to WorldSkills Kazan 2019, Champions from among this year's array of Competitors as well as WorldSkills Leipzig 2013 and WorldSkills São Paulo 2015 are invited to share their skills, abilities, and creativity to develop projects and initiatives to improve the world through the power of skills. Apply online here.
The Champions Trust is a group of young people who are the voice of young people in the WorldSkills movement. 
Gary Condon, of Ireland, who participated in the Plastering and Drywall Systems in WorldSkills London 2011, said he has experienced a multitude of experiences since being named a WorldSkills Champion.
"I've had the opportunity to work with eight amazing people who have been through the same or similar journey as I did," he explained. "Each person I worked with is passionate and aims to bring the best to the table."
"By applying to be part of the World Skills Champions Trust, it opens up the opportunity to stay involved with WorldSkills and allows you to work closely with the organization."
WorldSkills Champion Anna Prokopenia, of Russia, who participated in Pâtisserie and Confectionery in WorldSkills São Paulo 2015 said, "Being a Champion is a great honor - it's like finding myself."
"After being named as a Champion, I have no doubts about a choice I've made becoming a pâtissier. And that is what I would say to all Competitors -  there is no such thing as luck, it's all about your hard work and effort."
WorldSkills Champion Jenica Branscombe, of Canada, who participated in Beauty Therapy in WorldSkills London 2011 said, "Being a WorldSkills Champions Trust representative is indescribable, and my view is that Competitors would be crazy not to apply!" 
"They will meet amazing new friends and experience a family-like bond with the group.  We have had fantastic training which opened doors to speaking opportunities and networking with individuals from around the globe."
In 2014, WorldSkills launched the Champions Trust as a new initiative to inspire and motivate WorldSkills Champions to stay involved in the movement beyond the Competition. The avenues of engagement and related benefits were anticipated as being virtually limitless win-win for Champions and the WorldSkills community alike.
Champions Trust have the chance to join leadership and media training sessions, forums and conferences, and be recognized as representatives of the talented and dedicated community of WorldSkills Champions which currently numbers over 15,000 worldwide. 
Participants engage in WorldSkills Board of Directors meetings, and accompany Board members during presentations to provide the personal stories that inspire and motivate audiences everywhere. The Champions Trust will actively seek project ideas to present to the WorldSkills Foundation, and participants will have the opportunity to join in community-based projects that tap into their talent to improve our world.
All Champions have the opportunity to apply to join the WSCT. For more information about the WSCT and eligibility for appointment, email Alex Musial at alex.musial@worldskills.org or visit here for more information.