World Youth Skills Day Recognizes #SkillsRuleTheWorld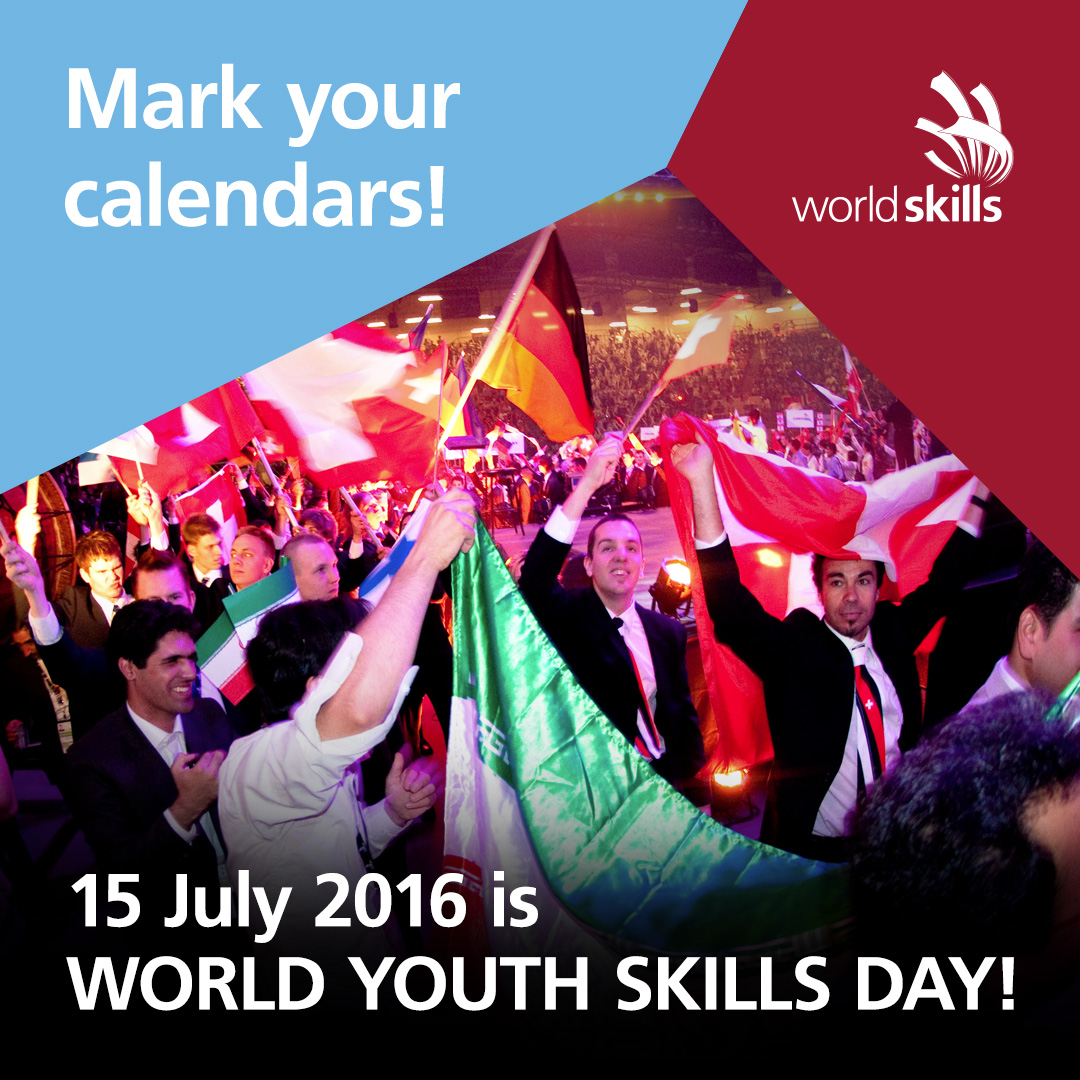 WorldSkills is proud to celebrate World Youth Skills Day (WYSD) on 15 July 2016!
WYSD is now officially recognized by the United Nations, and WorldSkills will join the organizations of the United Nations and other international and regional organizations, to raise awareness of the importance of acquiring skills as a means to address the challenges of unemployment and under employment, and as a way to achieve better socio-economic conditions for all youth.
CELEBRATE WITH US!
Tell us why #SkillsRuleTheWorld! Throughout June join our online campaign by sharing why #SkillsRuleTheWorld. Share on Facebook, Instagram, or Twitter a behind the scenes photo of how you develop, share, and put your skills to work.
Show us a photo of what your skills have made, built, created, designed, or imagined. Every week in June the top photos will be awarded a spot in July's #SkillsRuleTheWorld poll, where we will open voting to allow everyone to pick their favourite photo until World Youth Skills Day, 15 July 2016. Weekly and a grand prize of Samsung products will be awarded.
We know skills make everything possible. Whether it is the electrician that brings us power, the chef that prepares an inspired meal, or the programmer that makes magic out of code - Skills Rule the World.
MEMBER and partner events
Members are also encouraged to develop their own events to celebrate WYSD. If you are hosting an event, campaign, or have any questions, please contact Shawna Bourke, Marketing and Communications Manager at shawna.bourke@worldskills.org. We will promote Member activities through our social media platforms and include events on our WYSD webpage. This is a significant and unique opportunity to collaborate and synergize WorldSkills activities globally and show the role we play in improving our world with the power of skills. We look forward to your participation. More on events...
Community Plumbing Challenge
We are also excited to showcase the ongoing collaboration between Autodesk and International Association of Plumbing and Mechanical Officials (IAPMO) during the next edition of the Community Plumbing Challenge. This project, which runs 9-15 July 2016, will be hosted by WASSUP – the Water, Amenities, and Sanitation Services Upgrade Programme – in Diepsloot, South Africa, and support local residents across a range of design and skills development workshops as part of the Digital Fusion Design Hub workspace.
UNESCO TVET Forum
To celebrate World Youth Skills Day, UNESCO, through its International Centre for TVET (UNESCO-UNEVOC), is organizing an international forum related to Technical and Vocational Education and Training on 15 July 2016 in Bonn, Germany. The forum will discuss policy solutions to foster youth employment and entrepreneurship, facilitate transition to green economies and promote equity and gender equality. Representatives from the WorldSkills Champions Trust will participate in a youth forum designed to leverage youth engagement for innovative skills development.